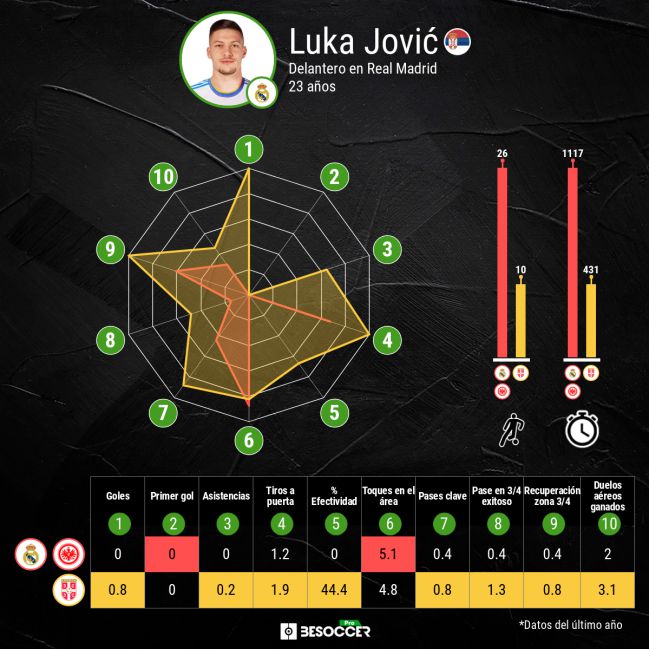 Luka Jovic may once again be, as it happened last season, one of Real Madrid's exits in the winter market. The 23-year-old forward rethinks his future again in the absence of minutes in the white jersey. And the 'via Odegaard' is one of the alternatives that are presented to the Serbian international. According to the website of Eurosport, Jovic can find accommodation at Arsenal (where the Nordic left on loan last January before finally joining the ranks gunners this summer) or in West Ham, Premier clubs that have shown interest in the player in the past.
The footballer, on the other hand, manages other options, according to the portal of the pan-European sports channel. The Bundesliga and Serie A are two desirable destinations for Jovic if an attractive offer arrives. In Germany it is, in fact, where he has performed the most and where he chose to go on loan last season in search of finding himself again. Eintracht Frankfurt welcomed him in 2017 on loan from Benfica. In the German financial capital he exploded when he was 21 years old. The 17 goals he scored in the Bundesliga were not enough to discuss Lewandowski's top scorer, but they were enough to, together with his 10 goals in the Europa League, to attract the attention of Europe's greats, including Real Madrid.. Hesse's team executed the purchase option it had for just over € 20 million to take over its rights and later transfer it to the Madrid club for € 60 million.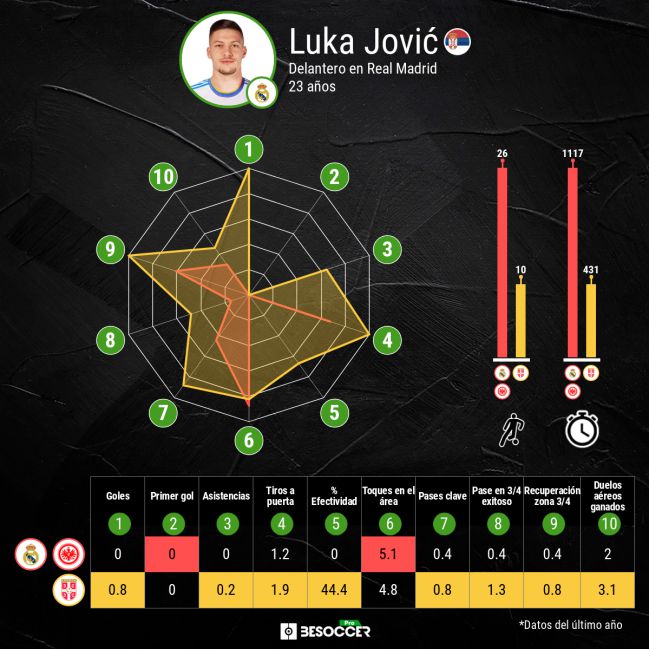 Jovic has not finished finding his place in the white team. The confidence of Zidane, who opted for his incorporation, did not stand out. In his first season he barely scored two goals, both in the league, the only ones he has scored in his time at the Bernabéu. His last goal as a madridista was almost 20 months ago, on February 9, 2020 against Osasuna. His temporary return to the Bundesliga was not fruitful either. Three of the four goals he scored were made in his first three games. Of more less.
So far this season he has played more than five times as many minutes with his national team than with Madrid. Ancelotti, who has found Vinicius's scoring vein, He has barely allowed 22 minutes spread over three games. With Serbia, on the other hand, he started and scored a goal in a friendly against Qatar and added another 27 minutes in the World Cup qualifiers against Luxembourg and Ireland.