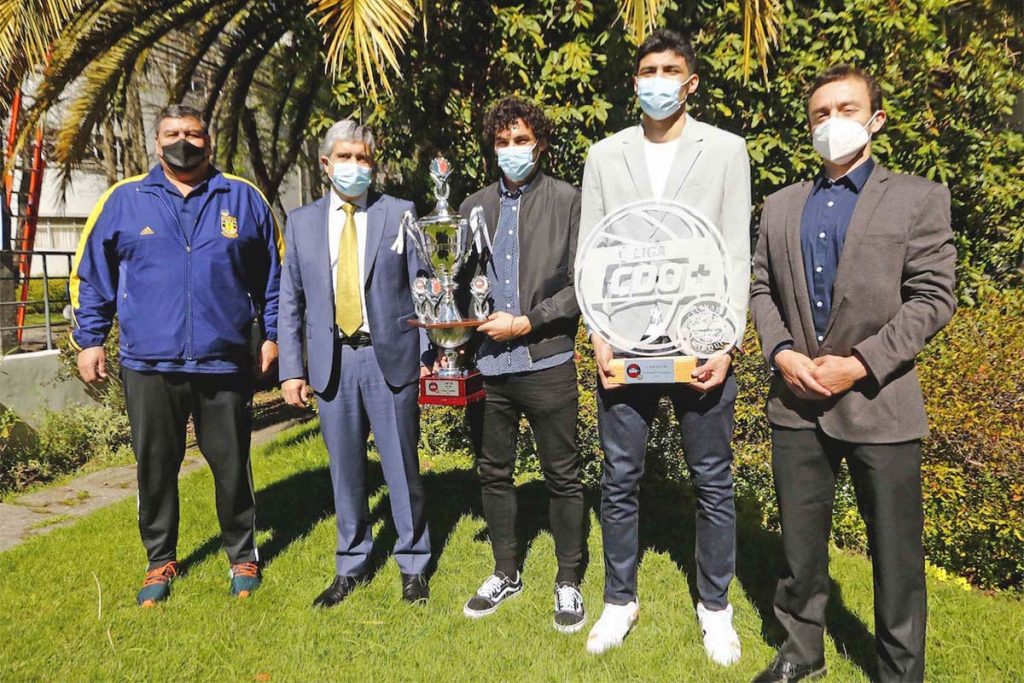 Part of the basketball team from the Universidad de Concepción, champion of the 2021 National League, arrived at Casa Enrique Molina to meet with university authorities.
Coach Cipriano Núñez and players Evandro Arteaga, Diego Silva and Lino Sáez participated in the meeting. Along with the Rector Carlos Saavedra, meanwhile, the Director of Student Services, Verónica Madrid; the Head of the Sports Unit, Víctor Méndez; and the Vice Dean of the Faculty of Engineering, Claudia Carrasco, a renowned fan of the Campanil team.
Rector Saavedra highlighted the "University characteristics" of the campus, which has eight UdeC students in its ranks, which in its opinion is "A hallmark in national basketball".
For his part, Cipriano Ñuñez applauded the performance of his leaders and his "cold blood" throughout the season, particularly in the final bracket against Club Deportivo Valdivia.
He also argued that the success at the end of a "exhausting and exhausting" campaign is valued in a special way.
Along these lines, the escort Evandro Arteaga said that a key moment was "When people were able to go back to the gym. In the final it was already with more public and in an environment in which basketball is more enjoyed ".
Arteaga, one of the most recognized figures in national basketball, referred to the possibility of integrating a dressing room with young athletes and stated that, beyond the role of experienced players in key instances, the important thing occurs in the daily exchange, "In every conversation we have with the younger boys (…) one can contribute and that is reflected later on the court".
Promotion of university sports
The Director of Student Services, Verónica Madrid, said that the institutional challenge is that there are more and more students from the UdeC following the example of the basketball team.
Dr. Madrid added that the positive response of the UdeC students to the vaccination process could facilitate an eventual advance in the restart of university sports tournaments, in accordance with all health protocols.
In this sense, Víctor Méndez, Head of the Sports Unit, referred to the work carried out as a house of studies to break with the idea that "The university is the athlete's grave".
After obtaining the league title, Basket UdeC will return to training in the next few days, to begin planning the next challenges, both locally and internationally.