Real Madrid chose five years ago that the Brazilian market was going to be his great fishing ground for young signings but it has not always gone well for him. Vinicius and Rodrygo have settled in the first white squad while Reinier He is suffering in his adaptation to European football during his loan to Borussia Dortmund. But they were not the only ones. The white entity signed in 2017 and 2018 two Brazilian promises with which now it does not know what to do … By the playmaker Augusto Galván (22 years old) paid three million euros and this season he will chain his third loan away from Valdebebas. The same solution, placing it in another destination through a loan, which it has had to take with the striker Rodrigo Rodrigues (21) for which he paid 1M € at the time. Madrid bet and the bet has not gone well.
Marcelo, Casemiro, Vini, Rodrygo, Militao … the white wardrobe is brazuca and that is the orientation that Madrid likes. Because the man who decides the transfers grew up in Brazil, Juni Calafat and its network in the South American market has been extended for years. By Vinicius, Rodrygo and Reinier he convinced the club to spend € 115M on those three jewels that hadn't even come of age yet, but Calafat also completed two lower-profile signings.
Augusto's was, yes, very risky. A recognized talent, but with a complex situation with Sao Paulo and that heI had also had more than a year without playing. Madrid paid € 3M to bring it to him but in Valdebebas he never stood out. Madrid first found him a place at the Cultural Leonesa, where he suffered a spectacular shoulder injury, and last season at a friendly club, Las Rozas. Now he has allowed me to return to Brazil with the intention of recovering the flight. Santos have given him a chance and last Monday confirmed that he will play there until June 2022. Three assignments in three years.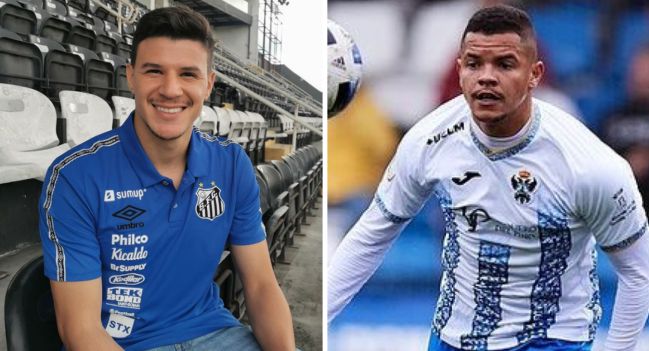 Rodrigo had a better projection in Factory white, where did she arrive from Novorizontino after being discovered by Madrid in a Junior Club World Cup. Such was the confidence of Madrid that he signed six seasons. Despite that, his football was not differential and a serious knee injury placed him behind players with a better future, in the eyes of the club, such as Marvin, Peter Federico, Hugo Vallejo … As a white youth he scored a goal ronaldian to Barça at the MiniEstadi but it was something fleeting. The season at Talavera, in Second B and as a rival by the way of Castilla de Raúl, he started but stayed on three goals. Even so the ceramic club was satisfied with him and given that Madrid were not interested in his return, he has agreed another loan season there. He has a contract as a Madrid player until 2023 with a generous salary.
In search of a bell
In the club situations like Augusto and Rodrigo are not overly concerned. It is understood at high levels that if you want to sign promising young people, you have to assume that sometimes the coin can fall flat because the revenue, when it gets right, it makes up for everything else. The entity estimates that out of every four signings of players under the age of 20, only one will succeed. It happened five years ago when Madrid spent almost in parallel 5 million euros for Fede Valverde and another € 5M for the Sergio Diaz, the Paraguayan Kun Since then, he has accumulated four assignments (Lugo, Corinthians, Cerro and América de México) aimlessly. Madrid does not leave Brazil.