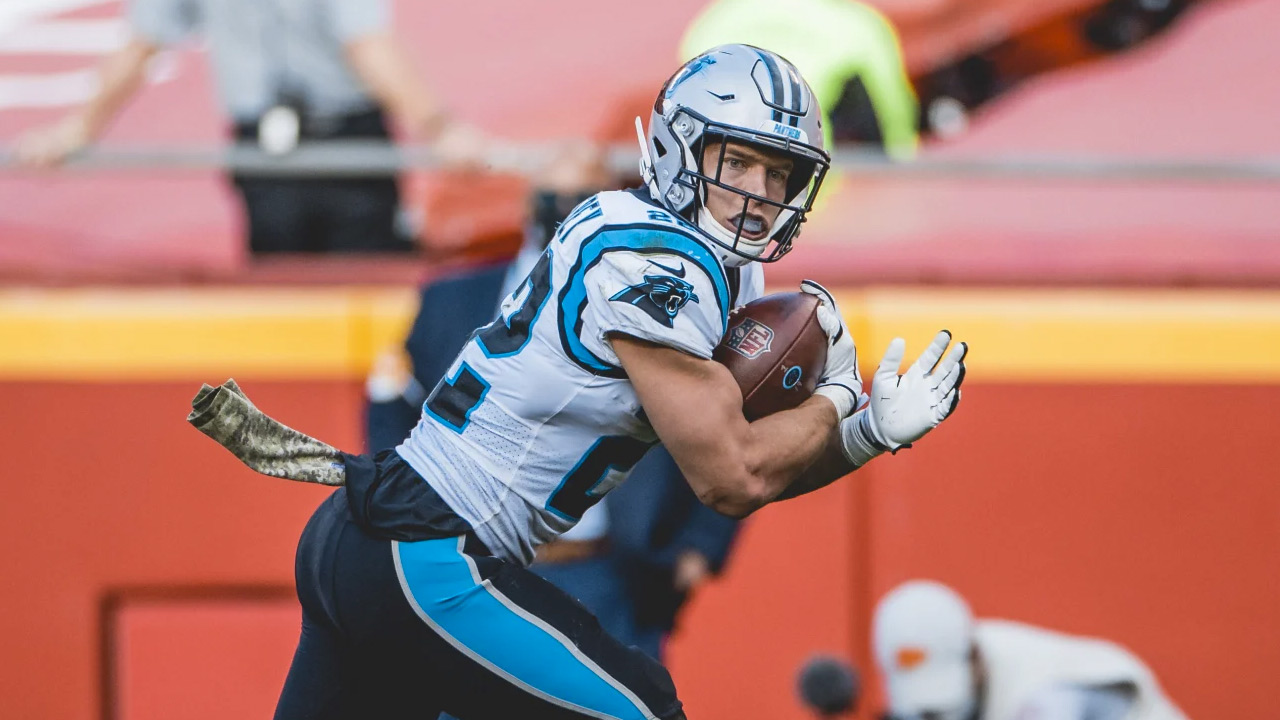 In this Friday's NFL news: Christian McCaffrey and Jaycee Horn, injured; the NFL changes the playoff schedule, Nick Gates' injury could end his career, and more. Don't miss the NFL news.
Christian McCaffrey, Jaycee Horn, injured at TNF
Bad news in Carolina. Yesterday the Panthers won Thursday Night Football corresponding to Week 3 and so far they remain undefeated so far this season, however, it was a bittersweet victory as two of their key players had to leave the match earlier than planned: RB Christian McCaffrey and CB Jaycee Horn.
McCaffrey, one of the best running backs today, was ruled out of the match early in the second quarter due to a hamstring injury. The severity of the injury is unknown at the moment, but if serious, it would be a tremendous loss for the Panthers, who in 2020 already missed a McCaffrey too much who only participated in 3 games in total due to ankle and shoulder injuries. Losing him again would be brutal.
The one who didn't instantly suffer the same fate was rookie cornerback Jaycee Horn, whom Carolina selected with the No. 8 overall pick in the 2021 NFL Draft. Horn suffered a non-contact injury early in the third quarter and did not look good when He couldn't even put weight on his right foot. Later, Jeremy Fowler from ESPN, reported that the initial diagnosis is a foot fracture, but it is still too early to give an estimated time of absence.
Maybe Carolina won the game against the Texans, but her perfect start to the season may be undermined from now on after these heavy losses, and the outlook is less promising knowing that in Week 4 they visit Dak Prescott's Cowboys. Can the Panthers overcome these losses?
Panthers CB Jaycee Horn believed to have broken foot vs. Texans (per @RapSheet) https://t.co/9h32AHlFvr pic.twitter.com/TcHMeAnpFq

– Around The NFL (@AroundTheNFL) September 24, 2021
The NFL will hold a Wild Card game on Monday night
The 2021 NFL Season is getting more and more peculiar. Not only is it the first in history to have 17 regular-season games per team, but it will also feature a change in the playoff format. Via Ian Rapoport of NFL Media, the league made it official that Wild Card Round weekend will have two games on Saturday, three games on Sunday, and one game on Monday night.
With this decision, it will be the first time in history that the NFL has played a postseason game on Monday night. The meeting will take place on January 17 at 7:15 p.m. Central Mexico, with the television network yet to be confirmed.
However, adding Monday Night Football to the mix could also backfire as the team that wins Monday night's Wild Card game will find itself at a competitive disadvantage by having a short week before the Divisional Round begins. Is it a good decision for the NFL to hold a playoff game at MNF?
Now official: Super Wild Card Weekend will include a MNF game. https://t.co/jTdeUGuHTy pic.twitter.com/HBm5QVYSnJ

– Ian Rapoport (@RapSheet) September 24, 2021
Joe Judge: "Nick Gates's injury could be the end of his career"
Week 2 of the 2021 NFL Season did not end well for some Giants who, in addition to losing in the TNF the previous Thursday to the WFT, also suffered the loss of center Nick Gates, who suffered a fracture in the lower part of the leg after being run over by DT Daron Payne six minutes from the end of the first quarter.
Later that day, through Dan Salamone on the team's website, it was reported that Gates spent the night in Washington DC, and had surgery on Friday morning. However, everything indicates that this was not enough. This Thursday, almost a week after the first surgery, HC Joe Judge said that Gates is still in the hospital and that he will need another procedure to treat the injury.
Also, to make matters worse, Judge said "I would be lying if I said no" when asked if Gates' trajectory could come to an end as a result of the injury: "We are confident that he will be able to come back, but yes, it could be the end. of his career, "Judge commented, through Ralph Vacchiano of SNY.
Gates, a Nebraska graduate, has appeared in 33 games with the Giants (20 as a starter) since 2018. This season, in Week 1 he started as a center, but in Week 2 he did it as a left guard. That means, for the third week in a row, New York will try a different offensive line combo for when they face the Falcons this weekend, and it works or it doesn't, only one thing is certain at the moment: Gates' professional career hangs in the balance. on a thread.
Nick Gates still in hospital, Joe Judge says leg injury could be career-ending. https://t.co/i6msGOB75M

– ProFootballTalk (@ProFootballTalk) September 23, 2021
Richard Sherman, physically and mentally ready to return to the NFL
It was reported last weekend that CB Richard Sherman, who is currently a free agent, could return to the NFL earlier than planned. Sherman, 33, was charged with five misdemeanors in an incident he starred in two months ago, however, this Thursday he told Doug Farrar about USA Today that you have received help and are confident that you can play again:
"I have a decade of resume that should stand stronger than a momentary lapse in judgment. I have a decade of character and videos to judge. If you are judging me for a momentary lapse, I am probably not a player for you in any way, "said Sherman, who also commented that he does not expect his legal case to be resolved until after the season, but that he has not heard anything about a possible disciplinary punishment by the NFL.
Sherman, a Stanford graduate, played the last three seasons for the 49ers after spending seven years with the Seahawks, and although he is temporarily without a team, interest is reported from Tampa Bay, Seattle and San Francisco to take over his services. In addition, to date, in 11 seasons played, he has 484 total tackles, 115 passes defended and 36 INTs. Will he make it back to the league during the 2021 NFL Season?
Richard Sherman: I've got a résumé that should mean more than a "momentary lapse." https://t.co/BLoykNS4QD

– ProFootballTalk (@ProFootballTalk) September 23, 2021
Jason Garrett discusses his incident with Kenny Golladay
Since last Thursday the Giants have been the center of attention because on Thursday Night Football of Week 2, WR Kenny Golladay was caught on camera allegedly yelling at QB Daniel Jones. However, the previous Tuesday, Golladay cleared up the rumors, but created a slightly more complex situation: He did not yell at Jones, but at offensive coordinator Jason Garrett. However, everything indicates that this story finally has a denouement.
This Thursday, Garrett noted that there is nothing to worry about looking to the future and that he loves Golladay's "competitive spirit", although he did not deny that what happened created the need for the two to have a talk at the end of TNF:
"He and I had a good meeting after the game," Garrett said, via Darryl Slater of NJ.com. "It was not a problem as such going forward. There are always better ways to handle things as you go, better ways to communicate. But it wasn't a big problem for me or our team at all. "
However, after another question about the number of times Golladay has been wanted throughout the first two weeks of the regular season, Garrett commented "I'm not going to talk about this anymore." So perhaps this issue is finally over, but it is undeniable that Golladay has not lived up to the Giants hoped for when they brought him in as their brand-new reinforcement in the previous offseason.
Jason Garrett: Kenny Golladay shouting at me wasn't a big deal. https://t.co/KpRmfN3zSR

– ProFootballTalk (@ProFootballTalk) September 23, 2021
Lamar Jackson misses Thursday's practice
In more NFL news, alarms went off in Baltimore on Thursday. Yesterday morning, via Adam Schefter from ESPN, it was reported that QB Lamar Jackson was not present at team practice. The above information was immediately associated with comments from Jackson last Wednesday, where he noted "I'm a little sore in my hip," after he did a somersault in the end zone when he scored the lead touchdown in the SNF's win over Los Angeles. Chiefs.
However, subsequently, multiple reports reported that Jackson's absence was just a scare for the Ravens. Jeff Zrebiec of TheAthletic.com commented that Jackson was out for an illness, more specifically a "stomach virus", but is expected to be in time and form to play next Sunday against the Lions in Week 3 of the 2021 NFL Season.
An injury to the Louisville graduate would have been a very unfavorable result for the Ravens offense, which already saw several key pieces of its backfield fall one by one. Finally, beyond Jackson having sustained a serious injury, it never hurts to wonder: Was it wise to expose his physique by celebrating his score last Sunday in that way?
Lamar Jackson missed practice due to illness. https://t.co/qme985u1tt

– ProFootballTalk (@ProFootballTalk) September 23, 2021
This is today's NFL news.
Want to hear more news from the NFL? Do not miss Under Review, the official news program of Primero y Diez where we review the best of the day, from Monday to Friday at 3:00 p.m. from Central Mexico, along with Jorge Tinajero, Luis Obregón and more.
You can watch the episode of Thursday, September 23 through the Primero y Diez official channel on YouTube or direct from here:
In case you missed it: