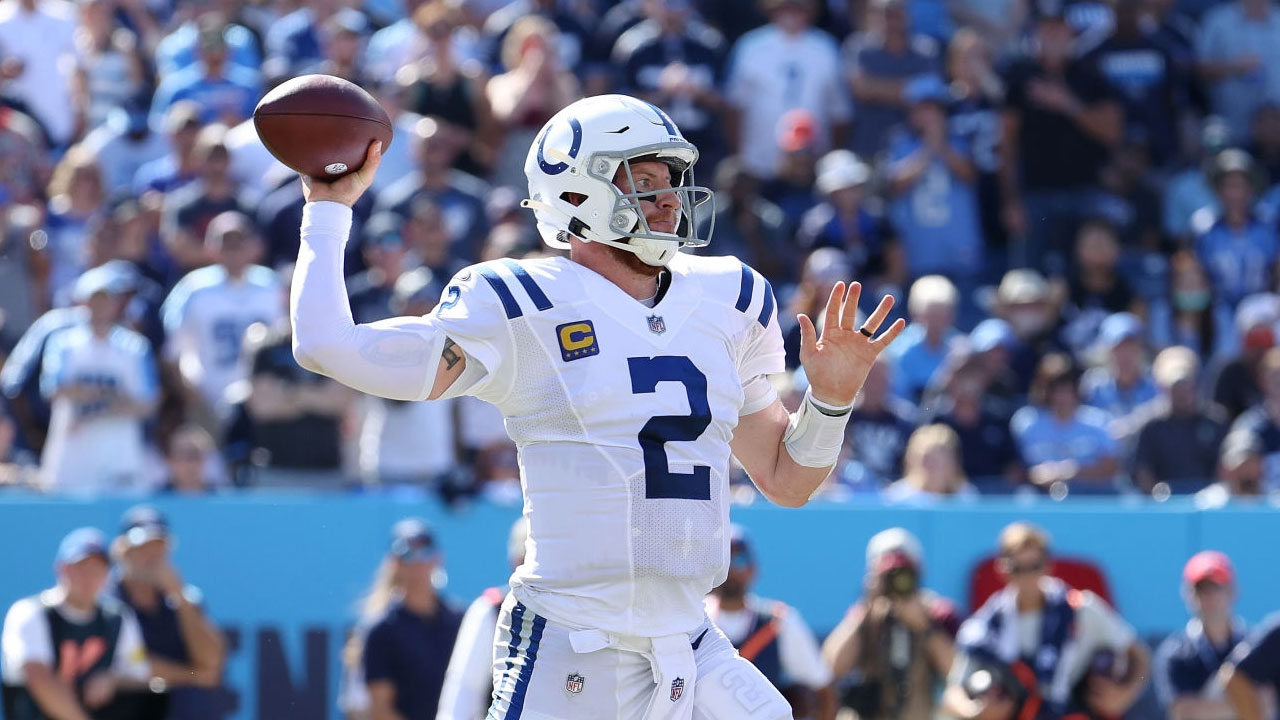 In the NFL news this Monday: La'el Collins, charged with bribery; Jim Irsay criticizes Carson Wentz, Keanu Neal tests positive for COVID-19, and more. Don't miss the NFL news.
Panthers acquire CJ Henderson
Last Thursday it was reported that Carolina cornerback Jaycee Horn will be out of the team for several months due to a broken foot, however, the team has not been slow to find him a replacement. This Monday, via Ian Rapoport from NFL Media, it was reported that the Panthers traded CB CJ Henderson from the Jaguars. Overall, the trade indicates that Carolina receives Henderson and a fifth-round pick for the 2021 NFL Draft, in exchange for TE Dan Arnold and a third-round pick for next year's draft.
Henderson, a graduate of the University of Florida, came into the league as a No. 9 overall pick in the 2020 Draft, and played 8 games in his rookie season before being placed on the Injured Reserve. This 2021 began the first two games of the season, but missed yesterday's game against Arizona with a groin injury. And now, the Panthers will try to build on their career, which has been full of injuries thus far.
In 10 games played in the NFL, the 22-year-old Henderson has 1 interception for 22 yards, 6 passes defended, 1 force fumble and 44 total tackles. Will he be able to make an immediate impact on Matt Rhule's defense?
Panthers finalizing trade for CJ Henderson. https://t.co/pHtqVJRpOK

– ProFootballTalk (@ProFootballTalk) September 27, 2021
La'el Collins, attempted bribery in prohibited substances tests
Two weeks ago, it was reported that Dallas right tackle La'el Collins was suspended five games for violating the league's substance abuse policy. But later, with virtually irrefutable arguments, the Cowboys tried to appeal the decision. However, the novel is not over yet. This Saturday, via Adam Schefter from ESPN, Collins was reportedly suspended for attempting to bribe an NFL substance test collector.
As a consequence, the league initially planned to suspend Collins for five games due to his actions, however, the NFLPA, aware of this, negotiated with the NFL a reduction to a two-game suspension. However, Collins decided to appeal the decision, which was attended by a third party designated jointly by the league and the NFL, which not only rejected Collins' appeal, but decided that the suspension should be increased back to five games. originals.
Meanwhile, attorney Peter Schaffer, whom Collins hired on the case, continues to appeal the decision, but Schefter reports that the suspension, which was announced on September 10, will not be lowered. Therefore, Collins, who tonight against the Eagles will serve his second suspended game, will be eligible to return until Week 7, when the Cowboys rest. So he'll be back on the field until a week later, when Dallas takes on Minnesota on the last day of October.
The fight between the NFL and Cowboys OL La'el Collins is getting uglier. https://t.co/AoVXZzFOjM

– ProFootballTalk (@ProFootballTalk) September 26, 2021
Jim Irsay criticizes Carson Wentz for his fragility and not getting vaccinated
This past Saturday night, prior to the Colts' Week 3 game, team owner Jim Irsay expressed some frustration over QB Carson Wentz, due to his prone to injury, and even his decision. for not having been vaccinated against COVID-19:
"I know how hard you have worked. I know he's respected in the locker room and all that kind of stuff. But you know, he has to stay healthy. Nobody hides behind the modus operandi of the past. That was there, and you know, since we came here and went through the months that we have passed, there have been difficulties. And it also makes it difficult if you are not vaccinated, because it is more difficult to depend on someone if you are not vaccinated. They have freedom of choice and we understand that. But, you know, we… hope that he comes back and plays well. "
In yesterday's game against the Titans, Wentz, who just came off two injuries to both his ankles, posted a finish line of 19 completions on 37 attempts for 194 yards, no touchdowns and no interceptions. What will Irsay think about her performance? How long will the Colts be willing to keep him on their roster if he doesn't deliver the expected results?
Jim Irsay vents some frustration over the injury struggles of Carson Wentz and the fact that he's not vaccinated. https://t.co/m2n0BKqhzm

– ProFootballTalk (@ProFootballTalk) September 26, 2021
Keanu Neal Tests Positive for COVID-19; out for the MNF
Since last Wednesday, Dallas linebacker Keanu Neal has been placed as a close contact in the COVID-19 Reserve. However, this Saturday, HC Mike McCarthy said at a press conference that Neal will not be able to participate in Monday Night Football against the Eagles because he tested positive for coronavirus.
Neal is not vaccinated. Otherwise, he would never have been placed in the COVID-19 Reserve for being a close contact, but now he will have to do a mandatory 10-day quarantine. Therefore, he will probably miss the Week 4 game against the Panthers as well. The University of Florida graduate, who signed with the Cowboys as a free agent last April, has thus far been a participant in 74% of the team's defensive plays in 2021.
In more moves, the Cowboys also placed DE Bradlee Anae on the COVID reserve for testing positive. Also, for the game tonight, they will not have DE Dorance Armstrong (ankle), nor DT Carlos Watkins (knee). While DE DeMarcus Lawrence is on the Injured Reserve. On the bright side, however, DE Randy Gregory will finally be back after several weeks in the COVID-19 Reserve.
Keanu Neal tests positive for COVID-19, out for Monday. https://t.co/HNCPLnN1sB

– ProFootballTalk (@ProFootballTalk) September 25, 2021
Miami places Tua Tagovailoa on Injured Reserve
In more NFL news, as previously reported, in the Dolphins' Week 2 game against the Bills, QB Tua Tagovailoa suffered a rib injury early in the first quarter, and though it didn't appear to be at first. something worrisome, finally it was the opposite. Last Friday, multiple reports around the NFL confirmed that Miami placed Tua on the Injured Reserve so he will miss at least three weeks of action, including yesterday's game against the Raiders.
That means that for at least the next two Miami games, veteran quarterback Jacoby Brissett will be in control of the offense. Brissett, as such, has never been hired to start in the NFL, however, he has extensive experience in the position, especially for 2017 and 2019, when due to an injury and the retirement of Andrew Luck respectively, he saw action during practically the entire regular season.
Additionally, in a corresponding move, the Dolphins' new backup will be Reid Sinnett, an undrafted free agent who graduated from the University of San Diego in 2020, who has seen action in only three preseason games during his career to date, registering 3. TD and 1 INT for 401 yards. Will Tua's absence from Miami weigh in the long term?
Dolphins put Tua Tagovailoa on injured reserve. https://t.co/3AkMZv182i

– ProFootballTalk (@ProFootballTalk) September 25, 2021
The most relevant injuries of Week 3
In the absence of the MNF, Week 3 of the 2021 NFL Season has almost come to an end. We had a Sunday full of emotions: the Broncos shut out the Jets, the Vikings got their first win of the year, the Packers and 49ers gave us a great game, and more. However, like every weekend, there were injuries everywhere and in this space we review the most important casualties.
WR Darius Slayton, WR Sterlin Shepard, New York Giants. Not only did they lose their third game in a row, they also lost two of their top receivers, both in the first half and through hamstring injuries. Exactly how severe the injuries are is still unknown, but if a prolonged casualty is confirmed, Joe Judge's men would be left without two of their best offensive weapons.
WR AJ Brown, Tennessee Titans. Brown was ruled out of Sunday's game for the second half due to a hamstring injury sustained during the first quarter. He played only eight snaps before leaving the field. He recorded a carry for three yards and, although he was searched twice, he did not register a single catch. Losing him would detract too much from the airstrike from Mike Vrabel and company.
OT Quenton Nelson, DE Kwity Paye, Indianapolis Colts. Early in the second quarter, Nelson suffered an ankle injury. He left the field on his own foot, was treated in the locker room and later returned to the bench with a strong bandage. For his part, Paye left the game in the first quarter due to a hamstring injury. The severity of the injuries is still unknown, but they are two key elements the Colts would surely hate to lose.
Other notable casualties: CB Josh norman (chest), San Francisco 49ers; CB Greg Newsome II (calf), Cleveland Browns; WR JuJu Smith-Schuster (ribs), Pittsburgh Steelers; OT Chukwuma Okorafor (shock), Pittsburgh Steelers; LT Terron Armstead (shoulder), New Orleans Saints, RB James white (hip), New England Patriots; WR KJ Hamler (knee), Denver Broncos; S Trevon moehring (ankle), Las Vegas Raiders.
Steelers WR JuJu Smith-Schuster (ribs) ruled out vs. Bengalshttps://t.co/1biTanaA2E pic.twitter.com/4zSRPOhtRo

– Around The NFL (@AroundTheNFL) September 26, 2021
This is today's NFL news.
Want to hear more news from the NFL? Do not miss Under Review, the official news program of Primero y Diez where we review the best of the day, from Monday to Friday at 3:00 p.m. from Central Mexico, along with Jorge Tinajero, Luis Obregón and more.
You can watch the episode of Friday, September 24th through the Primero y Diez official channel on YouTube or direct from here:
In case you missed it: