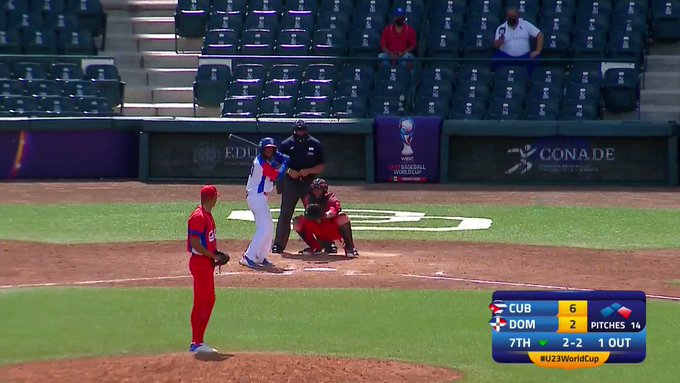 Andy Lans / @SportsAndy
Cuba qualified for the U-23 Baseball World Cup Super Round by defeating the Dominican Republic 6 × 2 in a game postponed by rain since the first day of the tournament. The organizers of the event forced the teams to play, as far as possible, with the line-ups of the opening day when the Quisqueyanos had 13 players. For this reason, Cuba, with 17 players available after the record of seven withdrawals, could not repeat the line up winner against Germany and Czech Republic. The Dominicans played without a designated hitter.
Those led by Eriel Sánchez threatened in the initial inning to open the scoring, but the designated Iván Prieto yielded the third out after a strong line to second base with runners in the corners.
Those of the Four Letters endorsed the 4 × 0 in the second inning with unstoppable tugs by outfielder Loidel Chapellí Jr. (1-of-3, CA, CI), second baseman Rodoleisis Moreno (2-of-4, 3B, 2 CA, CI) and shortstop Rangel Ramos (2-of-3 , CI, BB). From then on, starter Christián Montes de Oca (5.0 IP, 6 H, 4 CL, 6 K, 2 BB, 94 PIT) only received one hit in the third, fourth and fifth innings. The right-hander threw up to 95 mph on his fastball.
The Dominican Republic discounted two lines in the sixth inning with a home run to third baseman Cristopher Pujols' left field against Matanzas starter Naykel Cruz. The left-hander deserved the victory of the match by walking 6.0 acts with 109 pitches. He only received a couple of incogibles with two clears to his account, he decreed four tickets and nine fans.
Cuba scored the 5 × 2 at the top of the seventh and final chapter when the forward man Rodo Moreno hit a triple and stepped on the home thanks to a wild pitch by reliever Jesús Gómez. Yandi Yánez brought the 6 × 2 with a cannonball to left field. Matanzas receiver Andrys Pérez compiled 2-for-3 with a run scored to put his grain of sand. Between Guillermo García and Geisel Cepeda they finished 1-for-8.
The Greater Island of the Antilles finished the first phase with a 4-1 balance and concluded in second place in Group A, only surpassed by Mexico, world champion of the category. The Aztecs accumulated the same record as the Cubans, but they won by shutout 5-0 in their particular engagement. Chinese Taipei also advanced as third in the group, while Dominican was eliminated.
In this way, Mexico (2-0), Venezuela (1-1), Cuba (1-1), Colombia (1-1), Panama (1-1) and Chinese Taipei (0-2) will animate the Super Round of the III U23 Baseball World Cup, starting tomorrow, Wednesday, September 29, at the Hermosillo headquarters, Sonora state, Mexico.