WWE SMACKDOWN OCTOBER 15, 2021 .— Since SmackDown airs this week in the United States through Fox Sports 1 and not the FOX channel, WWE prepares a special episode with an extra half hour of duration, in order to outperform AEW Rampage, which will be decked out by a heads up between the SmackDown Champion, Becky lynch, and Sasha banks, a few days away from facing the title at stake (along with Bianca belair) on Crown jewel. The action of the blue mark of Wwe is issued from Toyota arena, on Ontario, California.
This Friday we will also see the SmackDown semifinals for the King of the Ring and Queen's Crown tournaments. On the manly side, Finn Bálor will face Sami zayn. If Zayn wins, it would be the first time that he would go to fight in Saudi Arabia —Where it has not been sent due to his Syrian ancestry—And face the winner of Xavier Woods vs. Jinder mahal.
In the women's tournament, the semifinal is that of Carmella vs. Zelina vega. Whoever wins will get the right to contest the crown with the winner of the duel between Doudrop and Shayna baszler.
Also, after several weeks in which Sonya deville blocked Naomi (has not worked since Money in the Bank), at last he will let her fight. And it will be against Deville herself, who for the first time returns to the rings since she lost a retirement fight with Mandy Rose at SummerSlam 2020.
WWE SmackDown October 15, 2021
Edge opened the last SmackDown before Crown Jewel and recalled that his rivalry with Seth Rollins began seven years ago and that he understands his attitude, but was deeply upset by the fact that he broke into and desecrated his house. He acknowledged that he underestimated him, and reflected that that was like underestimating himself, because they are both alike. Rollins watched behind the scenes.
He said Rollins may look like him, but he's not the same; and because of that, he said that he must end him once and for all. He said it will leave scars on his soul from which he will not be able to heal.
This will be a gem. pic.twitter.com/XeXd93XLmq

– 𝗠𝗔𝗧𝗘𝗢 (@TateSkold) October 16, 2021
WWE SMACKDOWN October 15, 2021 | Live results | Becky Lynch vs. Sasha banks
1. King of the Ring – Semifinal: Finn Bálor vs. Sami zayn
The first King of the Ring semi-final has arrived and the winner will go to Saudi Arabia. The fight would seem predictable due to the fact that it is known that Sami cannot go to the mentioned country, but at least the fighters tried to make it interesting, thanks to the innate talent that both have in the ring. In fact, the action was even and with a lot of key, but Bálor managed to get his rival out of the ring and attacked him with a nice stop. However, after the commercial break, Sami was the one who came very close to winning, but ultimately failed the Helluvah Kick, although he tried to win by cheating later. Sami was arguing with the referee and fell to the mercy of a Bálor offensive that did not prosper and the Irishman again got the advantage with a pair of Dropkicks
Good fight, they must meet in a PPV
Finn Bálor deserved finalist
Predictable due to the situation of Sami Zayn and Saudi Arabia
WWE cannot afford the departure of Sami Zayn, I refuse to accept it.#SmackDown

– BronBreakerismo (@Bitwwrasslin) October 16, 2021
WWE SMACKDOWN October 15, 2021 | Live results | Becky Lynch vs. Sasha banks
2. Naomi vs. Sonya Deville and Shayna Baszler
Naomi returned to SmackDown after her stint on Raw. And finally the expected return of Sonya arrived, at least in theory because the latter arrived in her executive suit and turned this into a disadvantage fight, and they caught Naomi unprepared, although she managed to attack Shayna with a couple of kicks; However, the numerical superiority of the rudas achieved its goal and Sonya began to abuse Naomi, but she managed to kick her out of the ring and take over Shayna; however, the momentum did not last long and he fell prey to the kirifuda.
Little by little this rivalry between Naomi and Sonya Deville starts to get interesting
With Shayna going to SmackDown, it may be interesting that she is an 'enforcer' for Sonya Deville
It was not a fight that we say.
Shayna didn't look so dominant and just took advantage of the opening Sonya Deville gave her
SONYA WON IT ON HER RETURN

And good support there from Shayna, maybe an alliance?#SDCL #SmackDown

– THREE CHAMPION Tomy Castañeda (@CMTomyRollins) October 16, 2021
Sasha Banks said behind the scenes that she will make history by coming out with the SmackDown Women's Championship, but that tonight she will take care of Sasha Banks.
Seth Rollins appeared in the ring and mocked Edge's words at the start of the show and said that he is not a "cheap knockoff of Edge" as he told himself to be better than the WWE Hall of Famer. . He said he goes with the physical and psychological advantage to Crown Jewel.
He said that he does not believe that Edge is 100% and, before the approach of this of a fight inside an infernal Cell, he said he did not feel intimidated. He said he knows what it's like to be in that structure and has suffered the scars from his encounters there, but that he will emerge victorious because he is a visionary and he is also Seth "Freakin" Rollins.
"I am not intimidated by Edge
That cell has scarred me. LOOK AT ME!!!
I am not a copy of Edge! I'm Seth Frekin 'Rollins! "#WWE #SmackDown pic.twitter.com/RbskNyCpQJ

– 🇲🇽 Hyde Wrestling Podcast (@HydeWrestling) October 16, 2021
Carmella and Zelina Vega met prior to their fight and the latter suggested that the best woman win this semifinal.
WWE SMACKDOWN October 15, 2021 | Live results | Becky Lynch vs. Sasha banks
3. Queen's Crown – Semifinal: Zelina Vega vs. Carmella
Two allies were looking for a pass to the final and they were going with the premise of lasting more than three minutes. The fight started out a bit friendly, but Carmella accidentally hit Zelina in the face and Zelina lunged at her with everything, forcing Carmella to look for her mask. However, Liv Morgan appeared out of nowhere and was left with the mask.
Zelina Vega, after a bad start on her return, has reaped some wins in a row
Nothing good. Another short fight.
DO JUSTICE LIV FOR THE PEOPLE #SmackDown

– WWE Argentina (@WWEArgentina_OK) October 16, 2021
Liv Morgan wanted to get her hands on Carmella, but Carmella fled.
Happy Corbin and Madcap Moss returned for another episode of Happy Talk and Moss retells a joke attempt. Corbin and Moss took the opportunity to make fun of Kevin Owens.
When they tried to tell a joke about Ricochet and Drew McIntyre, they were interrupted by Rick Boogs and Shinsuke Nakamura, who walked around the ring and returned to the ramp.
The Street Profits also joined the party, though they would stay for their next match.
WWE SMACKDOWN October 15, 2021 | Live results | Becky Lynch vs. Sasha banks
4. SmackDown Couples Championship: The Usos vs. The Street Profits
This was The Street Profits' last match prior to moving to Raw, and they intended to do so with the SmackDown Couples Championship, even if that meant leaving the blue mark without the title. The action started with quite intensity and the Usos managed to apply the two against one on Dawkins, but an aerial maneuver by Ford neutralized them. The challengers summoned the Dudleyz and removed a table, but did not set it up because they received a cap from the champions. Although it was not announced, the fight was a Tornado Tag Team because the Usos began to attack Dawkins with kendo sticks as if he were a piñata, but Ford came to put things in favor of his team, but he was close to taking the victory With the help of a chair, the Usos also came close after delivering Superkicks to their two rivals. Ford couldn't take the win after hitting his big plate, and was slammed into the table instead. Jimmy and Jey took advantage of their numerical superiority and with a good combination they left Dawkins lying down.
Good fight. They came up with everything and it was a good way to end this rivalry.
Predictable Raw was not going to stay with the two tag team championships.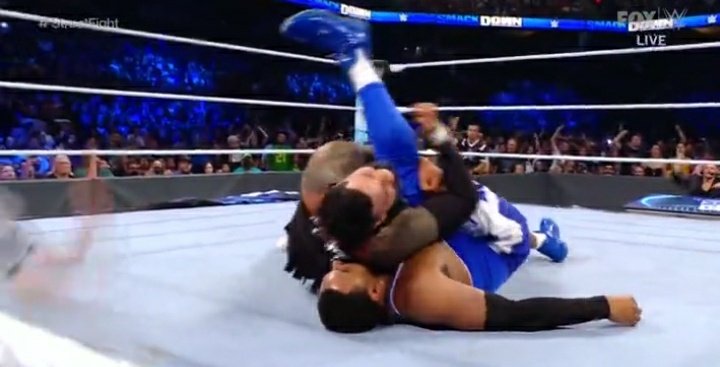 Since when was tag team a street fight? I thought it was normal#SmackDown

– Carrion 🌪️ (@ XCarrion_23) October 16, 2021
Becky Lynch said it will show why she is the best of the female cast.
WWE SMACKDOWN October 15, 2021 | Live results | Becky Lynch vs. Sasha banks
5. Becky Lynch vs. Sasha banks