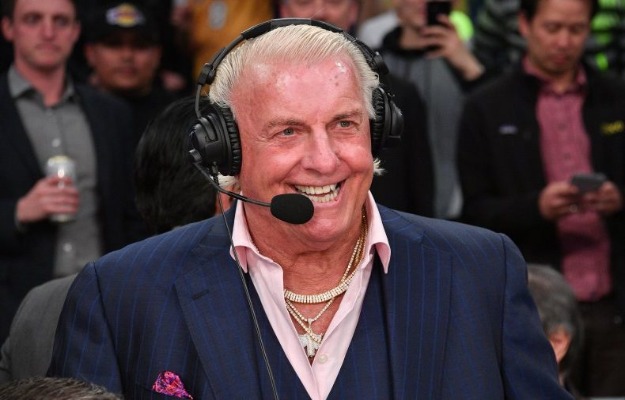 Two-time WWE Hall of Famer Ric Flair was removed from the opening video that airs before any of the company's television shows.. The footage in question began with one of Flair's characteristic 'Wooo's', however, that line was not in the video he opened the episode of Monday Night RAW last night, broadcast from the PNC Arena in the city of Raleigh, North Carolina.
Ric Flair removed from WWE television
What's more, WWE has removed all Flair-related merchandise from the WWE Shop in recent days. Flair's items were not few, and this move is especially interesting since the WWE Shop had been promoting and taking pre-orders of a limited edition replica of the World Title called 'Flair Legacy' for a value of $ 999. This was a fairly exclusive item, as only 500 belts were created, but the page has been removed from the WWE Shop website. At the time this article is being written, a search for the name 'Flair' returns only results for Charlotte Flair merchandise.
It is believed that these movements have been made as a result of the controversial chapter of the documentary series 'Dark Side of the Ring' broadcast last Thursday and that spoke about the WWE 'Flight to Hell' that happened in May 2002, the chapter included different accusations against Flair. Speaking of series, it should be noted that the first episode of the WWE 'Story Time' series has been removed from Peackock and WWE Network; the episode in question featured 'The Nature Boy' talking about a flight he took to Hawaii in 1986 in which supposedly there were 6 flight attendants trying to get him to undress until he was left with only his characteristic robe, in addition to highlighting that one of them "He had a big (butt) chest."
It is not known for sure if Ric Flair will be banned from Vince McMahon's company, or if mention of his name will be prohibited., because in yesterday's episode of Monday Night RAW Alexa Bliss, challenger for the title of Charlotte Flair, faced 'the queen' in a segment of her 'Playground'. At one point in the confrontation, the fans reacted with the 'Wooo' to which Alexa reacted by saying to Charlotte "See? That is not even yours, it is not original "making a clear reference to Ric, father of the Champion.
Thank you for sharing this time and enjoying this passion with us., PLANET WRESTLING, your WWE website. Remember that you can follow us on our RRSS and that on the web every day we bring you closer all WWE news, videos, interviews, with the best coverage and live monitoring as soon it will be expected WWE EXTREME RULES 2021.
All the news of WWE and wrestling on PLANET WRESTLING.