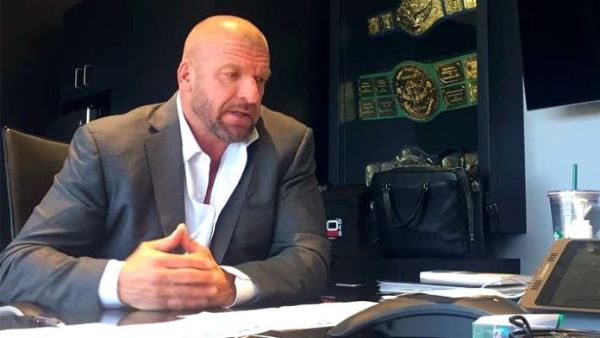 Triple H guilty of WWE NXT defeat | After the Wednesday war between NXT vs AEW in which the NXT brand ended up being defeated, Triple H is accused of being responsible.
Triple H would be guilty of NXT's defeat in Wednesday's war
Since October 2019 the WWE NXT brand was fighting a duel against the AEW brand calling this the Wednesday war, A battle that was constantly being lost by NXT, the battle ended last April when the Black & Gold brand was moved to be broadcast on Tuesdays culminating with AEW as the winner of the war.
The Wrestling Observer reports Senior WWE officials blame Triple H directly for NXT's loss to All Elite Wrestling, In addition, his detractors could be convincing Vince McMahon that Triple H is not the right man to be the successor in power to WWE, this was what the aforementioned portal reported:
"Triple H is being blamed behind the scenes for not winning

the Wednesday night war, which WWE was

convinced that she was going to win easily. His detractors,

who are afraid of losing their position if they gain control

of the company, they are taking the opportunity to denigrate NXT,

with the fired fighters as pawns in a power game. NXT

has been projected as a product full of independent fighters

that they are not a great attraction, which prevents

attract a younger audience ".
Dave Meltzer has added more information, According to Meltzer Triple H is also accused of racking up many fighters who did not have enough potential for the Main Roster, this is what Meltzer reported:
"The idea is that Triple H had supplied NXT with too many

fighters who had no potential for the main roster as they rushed

to sign fighters as quickly as possible to keep them away from AEW ".
From what is rumored, the NXT landscape is planned to change completely, with young talents in their 30s and great potential in strength and size.
Thank you for sharing this time and enjoying this passion with us. PLANET WRESTLING, your WWE website. Remember that you can follow us on our RRSS and that on the web every day we approach all the news from WWE, videos, interviews, with the best coverage and live monitoring as soon it will be expected WWE EXTREME RULES. All the news of WWE and wrestling on PLANET WRESTLING.