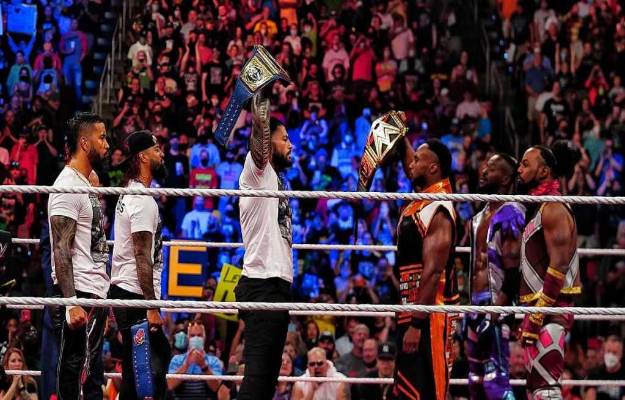 The last episode of Monday Night RAW marked the return of Roman Reigns, his spokesperson Paul Heyman and the Uso brothers to the red mark. The group, known as 'The Bloodline' is part of the SmackDown roster, so this appearance especially caught the attention of fans.
Rumors about the use of top stars in the two brands
The show was opened with a fight that pitted members of The Bloodline against the New Day composed of World Champion Big E and his teammates Xavier Woods and Kofi Kingston. In the final moments of the confrontation, Bobby Lashley intervened causing the fight to be disqualified, which resulted in the creation of a triple threat match between Lashley, Big E and Reigns, where the latter took the victory in the central event of the evening.
These events opened an interesting conversation on social media about the need for RAW to increase its rating numbers., which is why fans believe that WWE could be using stars from both brands in their shows to attract more audience.
The truth is that the Wrestling Observer Newsletter indicated in a recent update that this idea is not a possibility, nor is it a strategy to be implemented.r, the words of his source were "It is not a long-term strategy. Not even in the short term. "
However, when it comes to WWE, it is possible that things could change; However, at least as of this writing, WWE has not announced the presence of stars of SmackDown in the next RAW, nor of stars of RAW in the next SmackDown, so it is not believed to be a regular movement.
Finally, it is valid to highlight the fact that the audience for this week's episode of RAW increased by 7.37% compared to the figures recorded last week, which can be attributed to the presence of The Bloodline in the red show.
Thank you for sharing this time and enjoying this passion with us. PLANET WRESTLING, your WWE website. Remember that you can follow us on our RRSS and that on the web every day we approach all the news from WWE, videos, interviews, with the best coverage and live monitoring as soon it will be expected WWE EXTREME RULES. All the news of WWE and wrestling on PLANET WRESTLING.