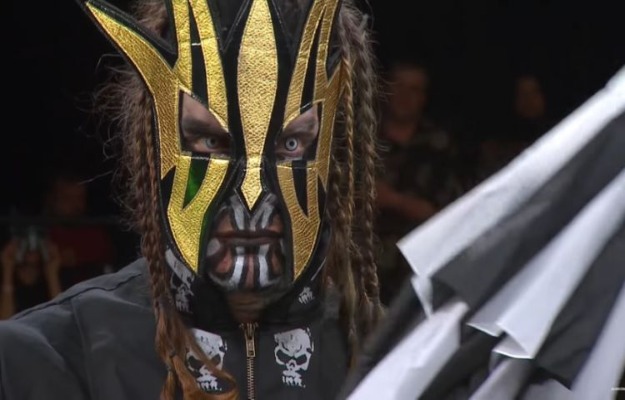 The 'Charismatic Enigma' Jeff Hardy was transferred to SmackDown on the first night of the WWE Draft held on the last episode of SmackDown.
Jeff Hardy's Willow character could return to SmackDown
On the latest edition of Monday Night RAW, Hardy faced Damian Priest for the United States Championship in the show's first match; Unfortunately for him, he could not get the medal, the same for which he fought in the last Extreme Rules PPV in a triple threat match in which the 'Celtic Warrior' Sheamus also participated.
After the fight last Monday, Hardy was interviewed about his expectations in his new home: SmackDown. Jeff mentioned between the lines that he wanted to wear a new Jeff Hardy to the blue mark.
The statements attract attention if we remember that Jeff mentioned in a recent interview that he was talking to the creator of his character Willow mask as he wanted to bring the character back. before finishing his degree; This fact, added to the promo of the last RAW and the rebrand that becomes a perfect setting, could mean that Hardy would be introducing his alter-ego Willow to the WWE universe in the coming days.
The character in question was a dark version of himself, used by Jeff during his time at Impact Wrestling:
Faced with this possibility, the former WWE and WCW main writer Vince Russo, who was speaking with Chris Featherstone from the 'Legion of RAW' podcast, confessed that Jeff has wanted to bring Willow to WWE for a long time:
"Well thank goodness there is going to be a new Jeff Hardy on SmackDown. We are going to see a different side of Jeff Hardy. What will he have planned? Willow? I mean, that was his idea. He really wanted to do that (bring Willow into WWE), he really wanted to make it happen. I don't know what he is referring to there (in the promo given after his fight on RAW). I mean, who can know? It was Russo's words.
Thank you for sharing your time and enjoying this great passion with PLANET WRESTLING. Remember that you can follow us on our RRSS and here on the web so as not to miss anything. Every day we bring you closer WWE news, videos, interviews, as well as the best coverage and live follow-ups.
All the news of the world of Wrestling and wrestling on PLANET WRESTLING.