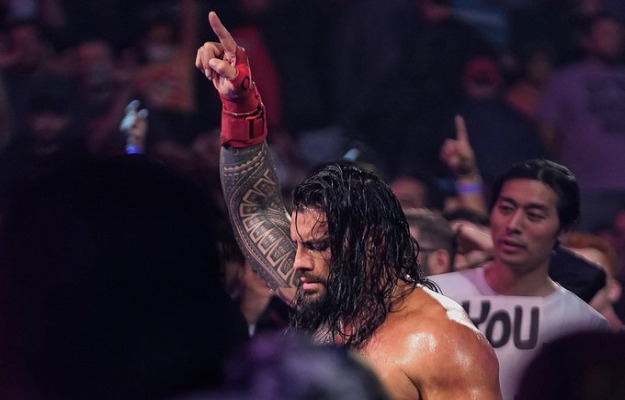 Social networks have been flooded with reactions and criticism of the controversial and strange end of the title fight between Roman Reigns and 'The Demon' Finn Balor. last night at Extreme Rules.
Drew Gulak and Roman Reigns talk about the end of WWE Extreme Rules 2021
In the last minutes of combat, The Uso brothers appeared attacking Balor at ringside to help his cousin, the Universal Champion, Roman Reigns. Deftly, Finn managed to fend off the assault, but Roman took advantage of the distraction to trap him in a powerful spear that carried the two fighters through the ring barricade. Suddenly, with both of them on the ground, the lights of the Nationwide Arena turned red and 'The Demon' miraculously recovered as he reacted to the throbbing of his entrance music.
Rage seized the demon who managed to turn the fight after sending his rival across a table with a prodigious dropkick. Moments later, Finn ascended to the third rope to finish off the 'Tribal Chief' with the Coup de Grace, what he did not expect is that the upper turnbuckle of the ring would burst, causing the rope to collapse sending him to the ground. In his recovery attempt, Balor was seen suffering quite a bit of pain in one knee, giving Reigns time to execute a spear and retain the Universal Championship.
Thus, Finn Balor's alter-ego was defeated for the first time on the main roster and for the second time in his career, as he had only been defeated by Samoa Joe during his time at NXT in 2016. This fact, added to a ridiculous ending, angered the WWE universe, which flooded the networks with negative messages about what happened.
The star of RAW, Drew gulak He joked about what happened on his Twitter account with the following words:
"And the moral of this story is: If you're about to win your fight, DON'T GET UP ON THE TOP ROPE!
Thanks for coming to my PowerPoint presentation! #ExtremeRules "
And the moral of that story was: If you are about to win your match DO NOT CLIMB TO THE TOP ROPE! Thank you for coming to my PowerPoint presentation! #ExtremeRules

– Drew Gulak (@DrewGulak) September 27, 2021
For its part, Roman reigns, who came out of the arena saying that he is the best fighter of all time uploaded a photograph accompanied by the phrase "Above all."
Above all else. #ExtremeRules pic.twitter.com/J2zORI7OdK

– Roman Reigns (@WWERomanReigns) September 27, 2021
Thank you for sharing your time and enjoying this great passion with PLANET WRESTLING. Remember that you can follow us on our RRSS and here on the web so as not to miss anything. Every day we bring you closer WWE news, videos, interviews, as well as the best coverage and live follow-ups.
All the news of the world of Wrestling and wrestling on PLANET WRESTLING.