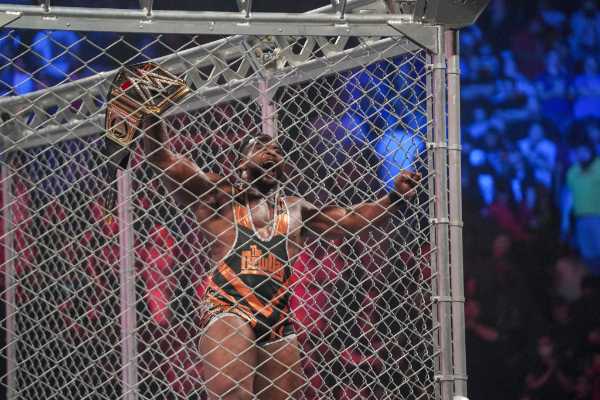 Big E retains WWE Championship | Despite what we saw at the start of the show with Big E and Bobby Lashley for the WWE championship, Both of them will finish their affairs in a Steel Cage Match.
Big E defeats The All Mighty inside a steel cage for the WWE Championship
Bobby Lashley got his WWE championship rematch earlier tonight on RAW We saw the confrontation between these two powerful rivals for the highest medal, However, the confrontation was interrupted first with the arrival of Cedric Alexander and Shelton Benjamin as members of The Hurt Business, These helped Lashley to win the title, Xavier Woods and Kofi Kinston come to the rescue of their partner Big E and thus the fight is disqualified but Adam Pearce appears on the scene to say that the fight will take place again but within a Steel Cage Match.
In the Main Event of the night the steel cage descends and the two opponents make their entrance, as soon as he enters the cage and Bobby Lashley hits Big E to weaken him before the fight begins, Even so, Big E recovers and now if it is official, they use the cage to punish the body and face of the other and try to escape from there but despite those attempts, escape is always impossible.
The Hurt Business enters the scene
When Big E had the perfect opportunity to escape Cedric Alexander and Big E again help Lashley by attacking the champion, The All Migty is about to walk out the door but New Day come to help Big E, the fight continues with Hurt Business and New Day on the ground and the two opponents inside the cage, we see suplexes inside the metal structure, more attempts to escape through the door and covers, but nothing grants victory.
In the final moments Bobby Lasley has Big E on the ground and takes advantage of this to escape by climbing up one of the sides, but Big E recovers and reaches The All Mighty, I somehow load it up for a super grand finale coverage 1 2 3, Big E defeats Bobby Lashley and retains the WWE Championship, after this while the still champion is celebrating Drew McIntyre appears at ringside and points at Big E with his sword so it seems that we already know who will be the next challenger.
Thank you for sharing your time and enjoying this great passion with PLANET WRESTLING. Remember that you can follow us on our RRSS and here on the web so as not to miss anything. Every day we get closer WWE news, videos, interviews, as well as the best coverage and live monitoring.
All the news of the world of Wrestling and wrestling on PLANET WRESTLING.