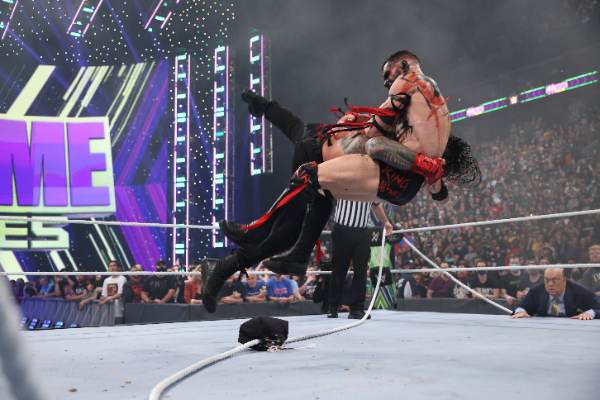 The end of WWE Extreme Rules 2021 it was weird. WWE fans were furious after they inexplicably WWE ring ropes will collapse, causing Finn Balor to fall from the third rope and placing the victory on a tray to Roman Reigns. Why? Nobody knows, it is one of the best kept secrets of WWE. The television cameras did not capture anything, but the fans present in the arena were able to see something that was not seen on television. A hooded man climbed with a knife to the ring to cut the ropes of the ring, causing the Irish demon to fall to the canvas and lose the fight.
Hooded cuts WWE ropes with a knife
In the age of social media, you'd expect someone to see something. Millions of people in their homes were incredulous at the broadcast of WWE Extreme Rules 2021, when magically the upper ropes of the ring collapsed and made Finn Balor fall. The Irish fighter was still in them, he had not forced them to break and we were all very surprised. The fans caught on camera that the way of doing it was very traditional, with a knife worker acting as a cameraman.
A hooded cameraman appears to cut with a knife cutting the ropes of the ring in #WWE #ExtremeRules

How will you finally explain #WWE what happened in that fight?

Credits to the author of the video pic.twitter.com/USS46a920C

– Planet Wrestling | WWE Extreme Rules (@Planeta_Wrest) September 28, 2021
Now we have to wait to know how WWE is going to explain this, and the theories are the most diverse. From another fighter to the powers of the demon himself, anything can happen …
Thank you for sharing this time and enjoying this passion with us. PLANET WRESTLING. Remember that you can follow us on our RRSS and that on the web every day we bring you closer to all the news from WWE, videos, exclusive interviews, with the best coverage and live monitoring. Very soon WWE will celebrate Crown Jewel, his PPV in Saudi Arabia. All the news of WWE and wrestling on PLANET WRESTLING.