WWE RAW AUGUST 30, 2021 .— This Monday a new episode of Monday Night Raw was held, and the way to Extreme Rules 2021 begins to take course. In the stellar, RK-Bro they defeated Bobby lashley and Mvp to retain the Raw Couples Championship.
THE BEST AND WORST OF WWE RAW AUGUST 30, 2021
Here we present the best and the worst of WWE Raw, in order falling:
WORST
► 3- None of the announced fights happened
The Miz vs John Morrison was supposed to happen last night, but hours before the start of the program it was reported that this fight would be canceled. Similar fate had that of Bobby Lashley vs. Sheamus, which was confirmed, But when the program started, it changed drastically, since both were inserted in other struggles, after what happened in the initial segment. The only good thing at this point is that those fights were the best of the night; Nevertheless, We do not understand why they announce certain struggles or segments and then – without further explanation – they change it.
► 2- Karrion Kross has lost his mystique
Without Scarlett, with music overshadowed by the screams of the public, with a helmet and suspenders, Karrion Kross has lost all the mystique that he had in NXT. The good news is that he is returning to the path of dominant triumphs. But what was the purpose of losing to Jeff Hardy?
► 1- Nia Jax, always dangerous
Nia Jax vs. Charlotte Flair was not a bad match, but the first always has a tendency to execute a somewhat dangerous maneuver for her rivals, such as a Back Suplex that caused a bad landing of The Queen. Jax has already had a recent history of unintentional injury, and Charlotte almost joined the list. Fortunately, the fight could end.
Nia Jax dropping Charlotte Flair pic.twitter.com/B9LsDmcpF4

– SkullsMedia.com by GIFSkull (@SkullsMedia) August 31, 2021
THE BEST
► 3- Xavier Woods vs. AJ Styles
Xavier Woods and AJ Styles have worked fairly consistently. Styles is hardly seen as a bad fight, and Woods has improved with each performance. This, despite the fact that the result is of little use.
► 2- RK-Bro vs. Bobby Lashley and MVP
This was a good main event with several people involved, and it gave importance to the Raw Couples Championship. It was a good action in the ring, and even MVP – who already fights little and who was known to receive the count – did not detract. The best: they let them fight and did not go by the typical disqualification.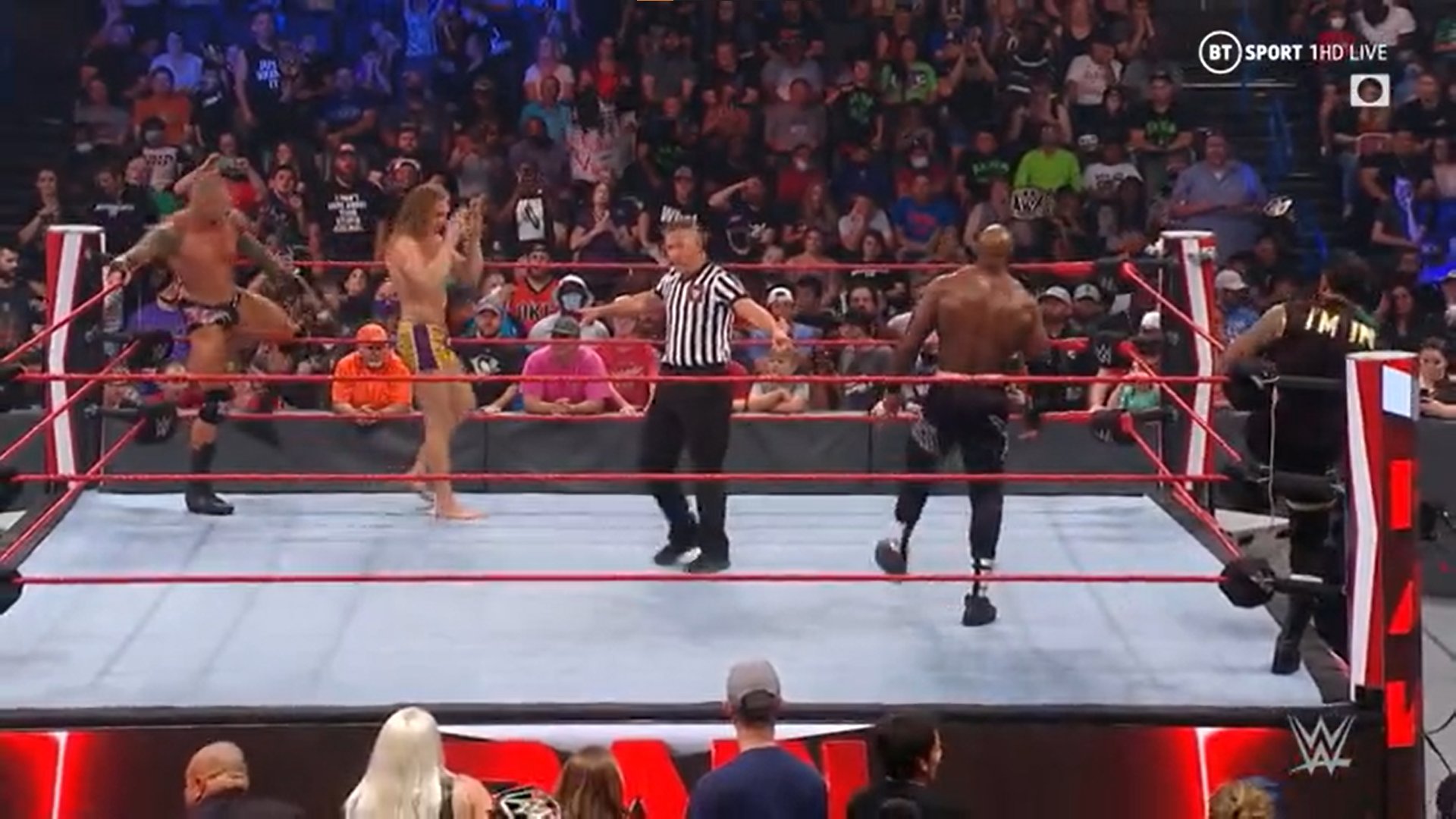 ► 1- Damian Priest vs. Sheamus vs. Drew McIntyre
Three of the best wrestlers on Raw hitting each other for over twenty minutes and dI have a great meeting it was something this program needed. At times, there was the drama that a title change could have occurred, but with Damian Priest counting Drew McIntyre it really meant something to the United States Champion. They all looked good.