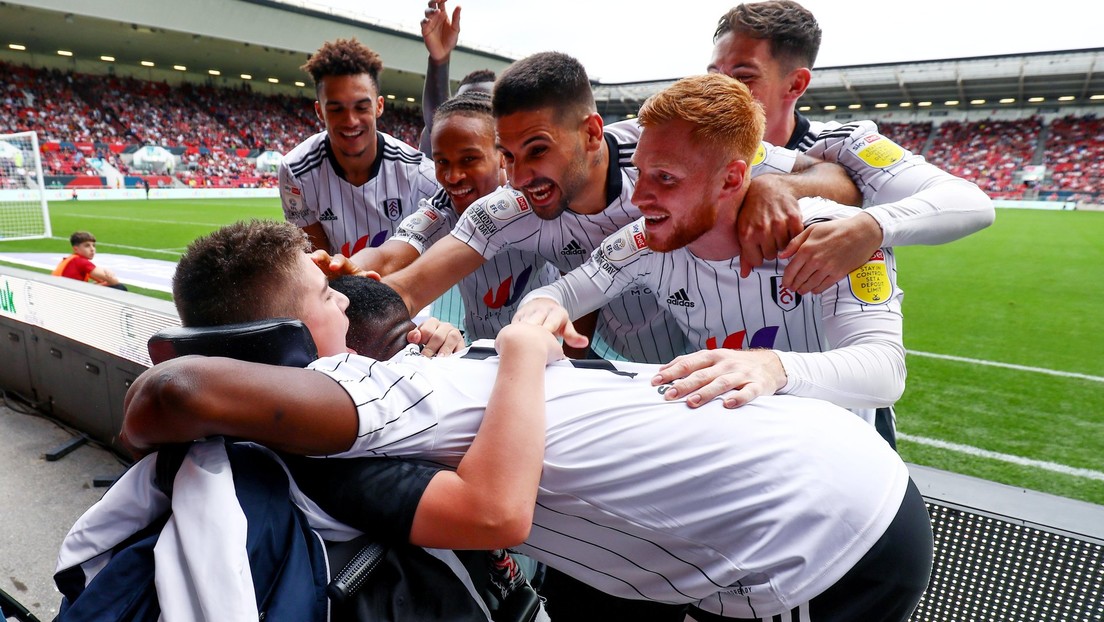 Published:
Sep 26, 2021 09:56 GMT

Rhys Porter made headlines after he received offensive and derogatory comments for a video he shared playing goalkeeper at a club for physically challenged youth.
Players from the English second division football club Fulham celebrated their goal against Bristol City on Saturday (1-1) with Rhys Porter, a 13-year-old fervent supporter of the team who suffers from cerebral palsy and epilepsy, and who had been the victim of harassment on social media for his condition.
At minute 50, Aleksandar Mitrovic opened the scoring and ran out to hug Rhys, who watched the match from behind the rival goal, very close to the edge of the field. The striker was joined by several of his teammates while the rest of the audience applauded not only the goal, but also the noble gesture.
The moving moment was captured by the camera of one of the spectators and shared online, where it moved the fans and, in general, the world of football. Until the publication of this article, the video had been viewed by 3.3 million people.
Incredible: Fulham players climb into crowd to celebrate goal with 13-Year Old fan Rhys Porter who has cerebral palsy and suffered savage online abuse after posting footage of himself playing football. Beautiful moment of empathy and human kindness 🙌 pic.twitter.com/mf0Dq33fII

– roger bennett (@rogbennett) September 25, 2021
" If you are disabled you should not play soccer "
In addition to enjoying football from the stands, Porter is a goalkeeper at Feltham Bees, a sports club for young people with physical limitations. Months ago, the Briton made headlines after receiving a lot of offensive and derogatory comments for a video he shared on TikTok cutting off in a game. "Why don't you get up? Oh, you can't", "If you're disabled you shouldn't play football," were some of the hate messages, commented the adolescent's mother in an interview.
As painful as it may have been, Rhys was unmotivated and turned the incident into an opportunity to help others like himself by raising money for the charity Scope. The teenager participated in an archery challenge as part of the 'Make it Count' campaign. "It made me quite sad, but I try to overcome it and get the positive out of the situation, "he said in an interview with Sky Sports at the beginning of the month. To date, the campaign has achieved collect more of £ 17,000 (about $ 23,000).
This week, Rhys had the opportunity to visit the Fulham facilities, where was surprised by one of his idols, defender Tim Ream, while being interviewed live.
"What he's doing is more of an inspiration than anything that any of us could ever do." 🥺 Watch as footballer, Tim Ream surprises Fulham fan with cerebral palsy, Rhys Porter, who suffered abuse online after uploading a video of him playing football.https://t.co/qkEO2Uy0e6pic.twitter.com/w8hpJ670bM

– BBC Breakfast (@BBCBreakfast) September 23, 2021
For his fundraising efforts for the cause, the young goalkeeper was invited to train with the national soccer team for people with cerebral palsy at the legendary Wembley Stadium in London.
In addition, Fulham also invited him to one of their practices, where he met with their players and got an autographed jersey. As if that were not enough, the club added him to the list of goalkeepers of his first team and he already has his own profile on the website.
If you liked it, share it with your friends!