It is being an atypical national team break for Toni Kroos. After recovering from the pubalgia that delayed his start to the season, the 31-year-old German faces some 'routine' work days in Valdebebas, with less crowded sessions than usual. Other years Kroos was one of the exodus of internationals who came to the call of their coach leaving the white coach on duty in the box. Instead, your goodbye to the Mannschaft After the European Championship he has allowed this break to remain under Ancelotti's orders, fine-tuning his set-up after the injury that has weighed him down at this start. An international retreat that will also give you a break throughout the season.
The Italian coach has begun to give him minutes: 24 against the Sheriff and one hour against Espanyol. Two moments almost of preseason to go recovering to a fundamental piece in the center of the field of Madrid. The metronome that sets the pace of the Madrid team's game. Able to stop time and wait for the right moment to give the precise pass to his teammates. Vinicius was able to give good faith to that ability of Kroos in the last Clásico that was played at the Bernabéu before the pandemic.
Kroos's influence on the Whites' game is almost unmatched in Europe. Since he arrived at Madrid in the summer of 2014, he is the second midfielder in the five major European leagues with the best passing success.. Giving the ball to the Teuton is a guarantee that he will find the way to get it to a teammate. 93.1% of his passes find a partner, a percentage that only Belgian Axel Witsel surpasses in the midfield (93.6% in the four seasons that the Belgian has been in the Bundesliga).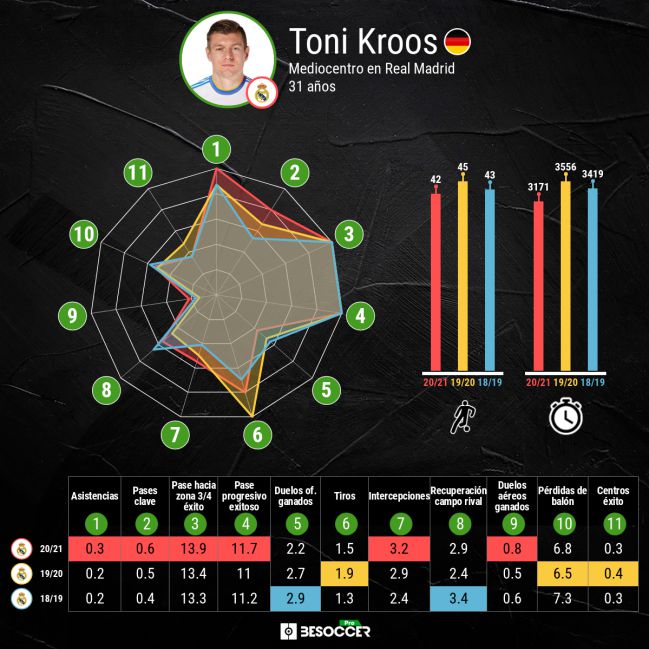 Last season, Kroos raised his hit rate one tenth to 93.2% and was, with 12 passes on goal, the team's top assistant in all competitions. Also the Zidane player with the most passes (1981) gave in the rival field. He faces his eighth season at Madrid as a specialist in giving goals to his teammates: he has delivered 55 assists with the white jersey. Half (27), from set pieces, data that makes him the greatest specialist in Europe in the last seven years.