In the Parc des Princes, this courtesy rule of "before entering, let out" has not been applied this summer. And PSG now faces a time trial to square its squad … while maintaining pretensions to expand it. With a week to go until the market closes, the Parisian team still has an oversized squad. On the entity's website there are 34 footballers in the first squad, Pochettino is working with a group of 27-28 players and there are still more to come. PSG seems insatiable in the market. He has signed the captain of Madrid (Ramos), the captain of Barça (Messi) and the goalkeeper of the European champion team (Donnarumma), three players who, like Wijnaldum, from Liverpool, have arrived free. He has only scratched his pocket for the additions of Achraf (€ 60 million paid to Inter) and Danilo Pereira (€ 16 million to Porto to carry out the purchase obligation after last season's transfer). The five arrivals are of players called to be starters in the Argentine coach's line-ups.
A real revolution that affects almost half the initial team. But it doesn't seem like enough. In the next few days, he can take over the services of Eduardo Camavinga, a footballer whom Madrid also had on their radar.. The promising 18-year-old midfielder has informed Rennes of his wish to leave. It is the last chance for the Breton club to make a cut for the player, given their resistance to renew the contract that expires in June 2022. The newspaper Ouest-France and also L'Équipe reported during the weekend that this day he played his last game with the Rennes jersey. The sports newspaper places his destiny at PSG for 30 million euros.
While sounded reinforcements have arrived and what is to come, exit movements have been minimal. Only three players who had a relative role last season have left. Bakker (40 games in 2020-21) has been transferred to Bayer Leverkusen for seven million euros and Florenzi (36 encounters) and Moise kean (41) have completed their respective assignments. The rest of the outings have been of young people on loan or the also loan of Areola, to West Ham.
There is work to be done, but plans go awry. Especially in the attack, where a good part of this problem of overbooking. Three departures that were taking shape in Paris have been truncated or encountered obstacles in the last three weeks: Icardi, Draxler and Sarabia. The Argentine, signed last summer from Inter, has played a leading role in the league start and has scored two goals, but when Messi and Neymar are ready (both may already play this coming weekend) his role in the team will decline. notably. Nevertheless, an untimely shoulder injury that occurred in a crash in the last game against Brest may draw potential stakeholders away. An added problem for PSG.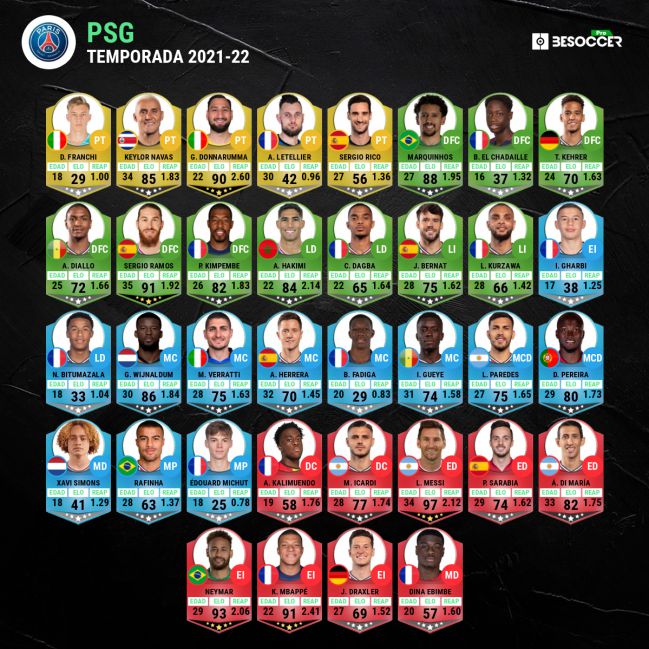 Draxler has gone in a short time from renewed to transferable. Despite being a spare part with a high salary, the Parisian club extended its contract in mid-May, according to reports, at the request of Pochettino. Four months later It has been speculated with its sale to Leverkusen for € 20M, but the German club denies the interest. A jug of cold water like that of Sarabia, whom in France they have linked with several Spanish clubs: Sevilla, Atlético and Real society. An interest that, for the moment, has not materialized.
They are not the only ones. The PSG also attends offers by Kurzawa, Kehrer or Rafinha. It seeks to obtain around € 180M via transfers to balance the Financial Fair Play, lower the salary mass and lighten a workforce in which not everyone fits. In addition to the difficulties inherent in working with such a large squad, if new reinforcements come, Pochettino would have to start making discards in order not to exceed the quota on the list of registered in the Champions League.