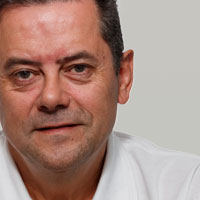 Back home.- I got up restless. I hadn't seen you for 560 days and my nerves were eating me up. The Bernabéu is not just another stadium. I have spent 90% of the best nights of my life here, as thousands of Madridistas do. With you we have laughed, we have shouted, we have cried, we have felt … After a year and a half we needed to hear that roar of a grandstand that destroys rivals and pushes those in white as if they were aircraft carriers. At six in the afternoon he was already in the vicinity of the La Castellana sanctuary. Again the hugs with the people, arriving from Venezuela, Mexico, Japan, Belgium (two kids flew from Charleroi just to see Hazard), Brazil (several Vini fans prophesied that I was going to be the hero of the evening) or whatever corner of our bull skin. Record of selfies to commemorate the return to the most legendary stage in football history. We were 20,000 privileged who were able to be on such a special day, marked by the memory of those who left forever, represented in that well-deserved, heartfelt and emotional tribute to Lorenzo Sanz. His wife, Mari Luz, and his children will never forget the warmth received by the Bernabéu, remembering our president of the Seventh and Eighth, the man who brought us into the era in color. And then Ancelotti's team jumped onto this impeccable lawn brought from Plasencia (Extremadura, land of conquerors). Nothing could go wrong. But Celta is a team with individualities and a lot of quality. No one said this was going to be easy …
Up hill.- The 1-2 of the break was interpreted by the doomsayers as the punishment for so many preliminary parties for the return to Chamartín, the eternal lair of our dreams. Well almost better. There is no glory without suffering. The nerves of the return, personalized in the 0-1 of Santi Mina, gave rise to a majestic and choral performance personified in a different and differential player. Vinicius is the new hero of the Bernabéu. I do not forget that the last game played here was played on March 1, 2020, with a 2-0 against Messi's Barça packed with a goal from the Brazilian. 560 days later, the boy re-fed his love affair with a stadium that has loved him since his time with Solari on the bench. When he was 18 years old, he already put the equipment on his back. He endured laughter, jokes and disrespect for his poor aim. But they forgot the most important thing. The talent. It has it by the tons. Few in the world know how to go one-on-one like him. Now, with Carletto, he has found the serenity of spirit to define as if he were in the garden of his house. His goal against Celta was a delight. And his supersonic plays were worth a mortgage. It is true that in the explosive celebration of his goal, he should not have risen to the stands as the pandemic threat was not yet closed, but understand that this kid had been dreaming of such a night for a long time. Pure magic in a mythical setting and with a hobby that adores it. Surely Mbappé will have been delighted by TV with the great game of the carioca and will have understood that when he arrives here, in a year, the first thing he will have to do is talk about you to Vini, to our Vini. The star is him.
Happy leaders.- Benzema's hat-trick and Modric's plethora of performance (a 36-year-old veteran made the play that allowed one of 18, Camavinga, to make his debut with a goal) completed a night in history. On days like this with sensitive skin, I want to send a very strong hug to Sergio, our enthusiastic Madridista from the Capote and Montera peña who always gave us a smile and a hug. You were gone forever, but tonight I saw you applauding in the Bernabéu sky for the goals of Karim, Vini and Camavinga. You will always be in our memory.