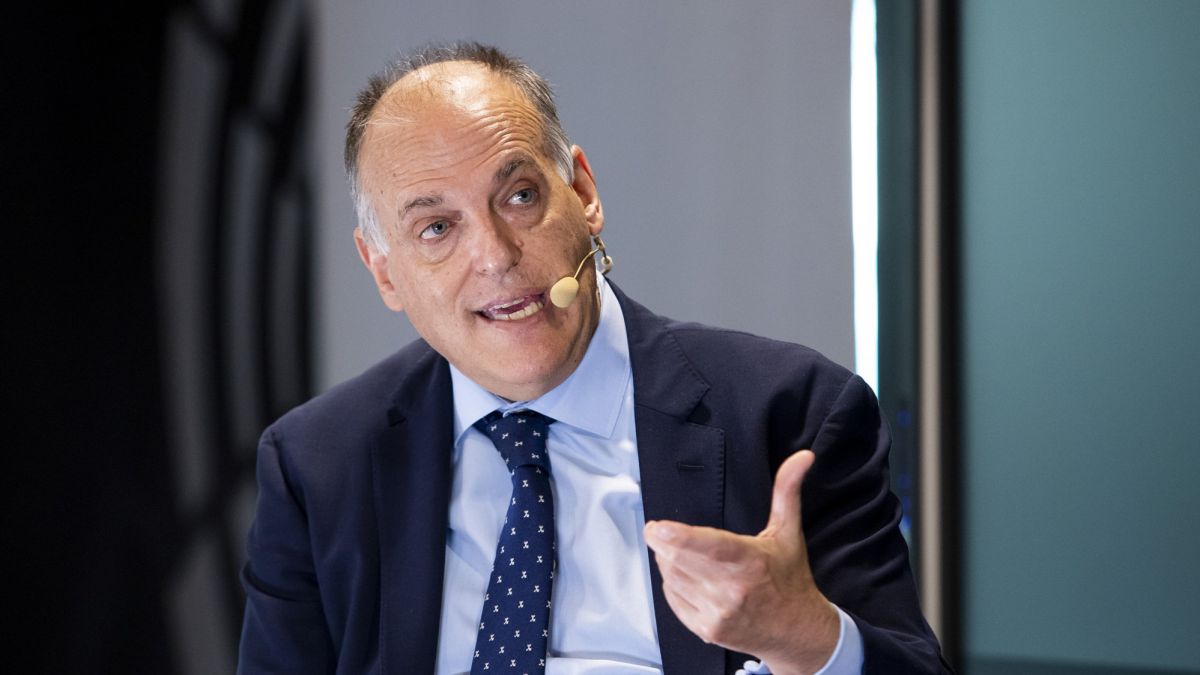 Javier Tebas, president of LaLiga, participated in the first day of the Sport Integrity Week organized by SIGA, event in which AS participates, to make a defense of the football industry. The president took heart with the investment made in protecting the competition and the assets of his clubs with new tools that fight against piracy and help the safety of the fan and the economic of the clubs. What's more, questioned institutions such as CAS, UEFA, FIFA, PSG and the Super League or World Cup project every two years: "Some want more money to have more Porsche, Ferraris and better houses instead of distributing it more ethically among all the players in football. "
Conflict in football: "Sometimes claiming that we are all on the same line is impossible. The fights that exist, as with the Superliga or the Financial Fair Play of PSG, are very different models of football. Those of one and the other are incompatible and cannot be negotiated. We believe in meritocracy and that governance should be of all the clubs and not of the big ones as they seek. I cannot sit down to negotiate that issue. Either we win one or the other. We waste a lot of time sitting at tables where he who fights for objectives that can destroy the current concept of football is gaining positions ".
Consequence of the Super League: "On April 21, an approach that had been coming for many years was consummated. The position of the big clubs has been taking ground that many of us thought. The Super League is not a concept of competition, which is the one that has failed, it is a broader ideological concept. It is based on the fact that the power of football has to be in the hands of the greats and they decide how the matches are organized and what the spectators see. They have been winning little battles in UEFA. In 2019, let's not forget, UEFA and the ECA propose a Champions League idea that was from the Super League, it was semi-closed. I knew there was movement. The difference is that Florentino Pérez has shown his face, before he led without showing his face. Now he has proclaimed himself president. "
European Court: "I do not believe that the accusations of monopoly against UEFA are. There are other monopoly positions, but not those that the Super League says. The English clubs are no longer in the European Union, what they say from Strasbourg will not matter to them And they are not going to enter a Super League for many, many years. It is very difficult for that model, which is defended by three shipwrecked clubs, to continue. Florentino Pérez never loses, he does not acknowledge any failure. He will continue fighting. I am not worried about these three clubs or the Court Justice of the EU, I am concerned about FIFA or UEFA ".
FIFA position: "Infantino appears in the Super League documents. He has not objected. If your statements are analyzed well, you acknowledge that you have met and do not deny it. Although it does not say exactly who pushed it. We are in a dangerous moment with FIFA. Everything is resolved with competition changes so that they receive more money. That is ruin ".
Leagues Viability: "The European leagues, in turnover per season, generate seven times more than UEFA and 20 times more than FIFA. Those ideas put jobs at risk. It's terrible. Putting a World Cup every two years, which is not going to be created, will lead to job losses. Someone said 'I am more afraid of the silence of my friends than the screams of my enemies.'
Market inflation: "You have to be careful. There are good and bad inflations. Real Madrid with economic control does not receive subsidies or bloated sponsorships. It is money that they generate. That is legitimate. Against many teams in the Premier I cannot say anything about their turnover. I can only say that you have to work to win more and compete against the Premier. But club-states have come with an inflow of money that has created the wrong inflation. PSG have 500 million euros in salaries and have lost 400 million euros due to COVID and on French television they have lost 50% of the value. What they are doing is economically impossible ".
Real Madrid: "They have sold for 200 million euros in players. They have money in the box to sign Mbappé and Haaland together. You have not lost money. On top of that, it has sold assets. What is not understandable that someone who loses 400 million, has 500 in salary mass and on top of it can reject offers like Mbappé's. It is failing in the control rules of France, they have opened to hurt the European market. UEFA's system is wrong. We are going the other way around how it should go. You have to bring investors, but not with unlimited contributions and with constant losses. In another sector it would not be allowed. They prefer to win the Champions League and have lost a billion. That is how their fans are happy for having won the Champions League, but you have taken on football. It's very dangerous".
Future: "I think some clubs are already talking. More steps must be taken. A letter to Ceferín or Infantino is not enough. You have to act. The world of TAS I do not believe it. Sports justice must be changed. I said it in the UEFA Executive Committee. He acquitted PSG and City when they were condemned by UEFA ".
Sports justice: "It is a crucial issue. The TAS is not independent. 80% of its budget depends on FIFA and UEFA. Nor is it independent in the appointment of judges. Six referees take most of the football issues. Out of 100 cases in FIFA lawsuits, 93% have agreed ".
Agent commissions: "When you want to change something, you have to be willing. I have my doubts. In the agents and intermediaries a new regulation will be drawn up. Another one from FIFA and all have failed. All clubs should be obliged to put names and surnames of the amounts they pay to intermediaries. They demand it of us before any economic transaction, here it should be the same. When they look at the accounts, they won't try to charge as much. We have an economic control that the agent's salary also counts. The clubs have to squeeze the agent to have more money for the salaries of players ".
Barcelona: "It is spoken with a lot of populism. The important thing is not the debt you have, but the ability you have to repay. Enter one billion euros. It has a one-to-one ratio. Better than 70% of the teams in Europe, better than PSG, than Premier teams … We believe that the rules of economic control benefit Barcelona's sustainability with their harshness. Your income capacity has been affected by COVID. Barcelona is not bad. There are many who are worse. They talk about them for economic control ".
CVC: "If 39 clubs are in favor, it is a good project for football. Top-tier entrepreneurs agree. Those who are against it are Athletic, who are going on their own, and those of the Super League, because they know that it hurts them. It is an investment fund that risks money for the profits or losses of the next 50 years. We are not broke, it was a lie from the Super League. Hopefully CVC wins a lot of money, because the remaining 90% will go to the clubs. It is not a vulture fund, it is an industrial partner ".
Federation: "The Federation is in the shadow of Florentino. If we gave them 100 million euros they would say no. It is a cultural issue. They say no to everything. The level of leaders in this industry has to be better. There are thousands of jobs at stake. A wrong decision is to lose jobs and leave families unemployed. You have to understand what is happening. There are many leaders who are not prepared and who is also integrity ".
COVID: "You have to put a parenthesis on what happened. We will return to normal situations. You have to see how it has affected. Premier teams are less affected by audiovisual revenues, which do not depend as much on ticketing as Madrid, Barcelona or German clubs. It depends on each place how it has affected them. The solutions for Italy do not work for Spain. Spanish clubs are solvent. Barcelona are perfectly fine, much better than others, but they have not signed great players. He did not have and should not sign to guarantee his future ".