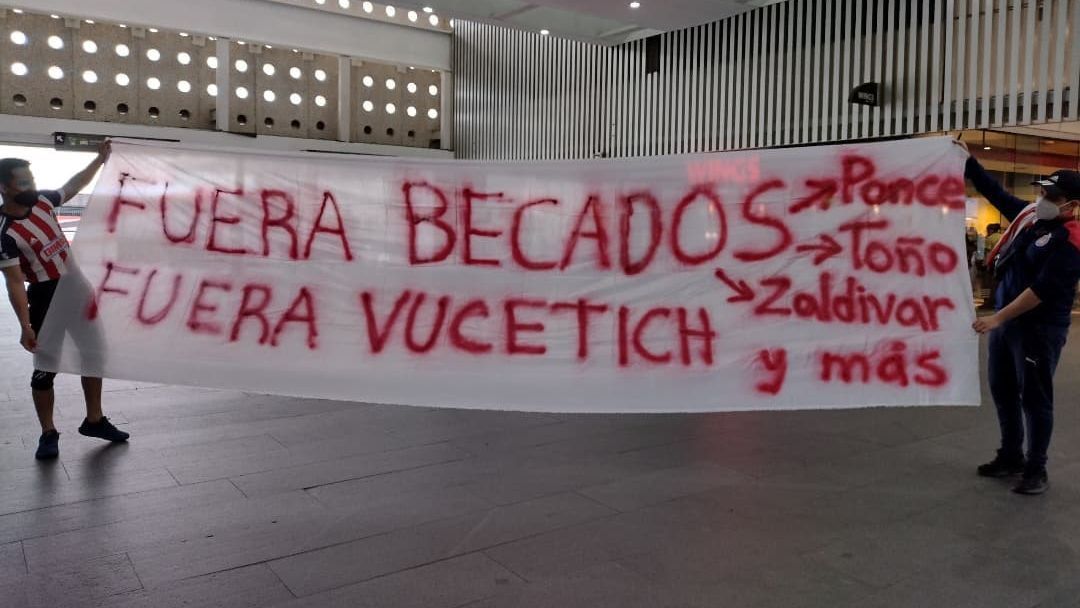 The few fans who were present at the airport to receive the team, showed banners against DT and some footballers
Chivas arrived this Saturday at CDMX for Sunday's duel against Pumas, where, unlike on other occasions, he was received at the airport by very few fans, who showed banners against some players and coach Víctor Manuel Vucetich.
The Rojiblanco team arrived in Mexico City around five in the afternoon, so after the Insurgency bar announced that as a protest against the bad results they would not carry out the traditional reception, the Guadalajara squad was received by few followers.
Given the refusal of the animation group to welcome the team, different fans supported the protest, so that, after its arrival in Mexico City, the Sacred Flock had the reception of at least 70 fans.
One of the elements that was most requested by the Rojiblanca fans was the Chivas captain, Jesus Molina, who stopped by to take some pictures and provide some autographs.
With the poor reception for the Chivas squad, the followers supported the determination of the Barra la Insurgencia, since different fans of Guadalajara assured through their social networks that the team does not deserve the reception that is usually given to soccer players, due to to the bad results of the whole.
In previous tournaments, both fans and animation groups usually welcome the team at the Mexico City airport, as well as take the players the traditional 'serenade' where they sing songs and live with the soccer players in the vicinity of the hotel concentration.
.