Over the last few seasons, Madrid's line-ups have been built around one man. Casemiro and ten others. The Brazilian did not have a natural substitute for his conditions in the team. Not even after the national team breaks did the midfielder have a break. The absences of 14 white were a headache for Zidane. The threat of suspension for cards at the gates of a decisive match, a derby or a Classic, were the only reason of force majeure to leave Case on the bench or stands.
Among the tasks that Ancelotti has proposed is to find a solution to rebuild the team that allows Casemiro to rotate. On Saturday, before facing Valencia, the Italian coach advanced that he was considering alternatives. "The defensive quality that Casemiro has is not easy to find in other players. Hopefully Casemiro can play every game. If not, we have to change the team's plan and strategy a bit. The double pivot is a solution.". And it was.
Ancelotti lined up Camavinga and Valverde as double pivot against Mallorca. The versatility of the Uruguayan had already made him play in Casemiro's position on some occasions. The signing of the Frenchman provides greater alternatives to the center of the field, an area that has been the most under-staffed in recent years (Ceballos, when he recovers from his injury, will also generate options). A duo with youth and cheekiness that can fulfill the role of the São Paulo player, who has been the outfield player with the most minutes played for Madrid in three of the last four seasons..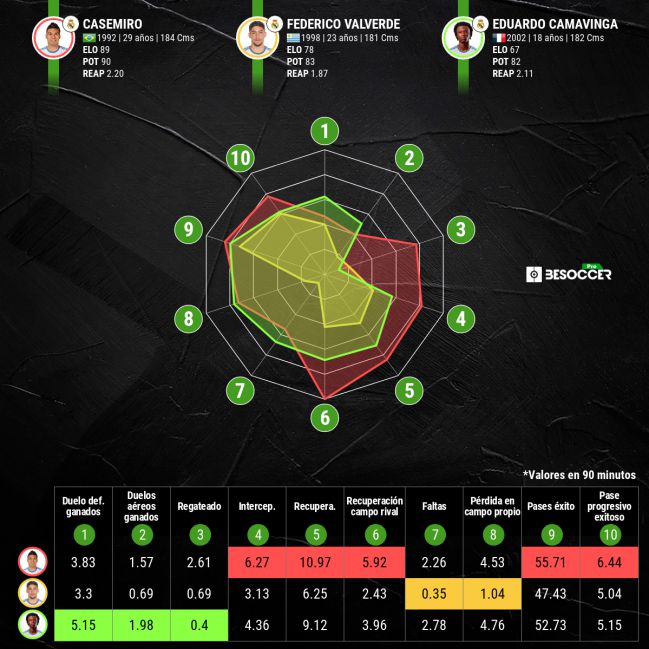 The win against the vermilion box was marked by a circumstance that had not occurred for almost two and a half years. They did not play any of the three members of the media who have marked an era in the white team. Not Casemiro, not Kroos, not Modric. The last game that all three missed was a Real Madrid-Huesca (3-2) on March 31, 2019, after a team break. 1,015 days and 118 games later, none of them stepped onto the pitch during the game.
White, in the bedroom
The specific spare part for Casemiro is in the quarry. Antonio Blanco, 21, already played four games with the first team last season. In his debut he played alone, 25 minutes against Getafe, and the other three games were played accompanied by Casemiro in the double pivot. Against Mallorca, the Cordovan had his first minutes under the command of Ancelotti. Half an hour in which he played the Brazilian and recovered four balls, only surpassed by the contribution of Militao (eight recoveries) and Vinicius (five), both in 90 minutes.