When it seemed that he could begin to forget the ordeal of injuries that hit him last season, Dani Carvajal returns to the starting box. The one of being plunged into an injury that cuts him off the season and prevents him from helping his teammates. A hard blow for the side, who, after the five injuries that plagued him last season, had started this season with good feelings (he scored the goal that gave Madrid victory in the Betis field) and He looked with the possibility of being summoned with Luis Enrique for the final phase of the League of Nations, which takes place in October and in whose semifinals the National Team meets Italy.
Carvajal, 29, He did a preseason over low heat to strengthen his physical condition and avoid relapses. He began working alone and gradually joined the group's discipline. Ancelotti booked him on the first day against Alavés and gave him 25 minutes of shooting against Levante. Confidence in his physical condition was maximum. The club left Odriozola out on loan to Florentina and left Lucas Vázquez as the only replacement. The Galician will now have to assume the starter stripes, as he already did with proven solvency last season.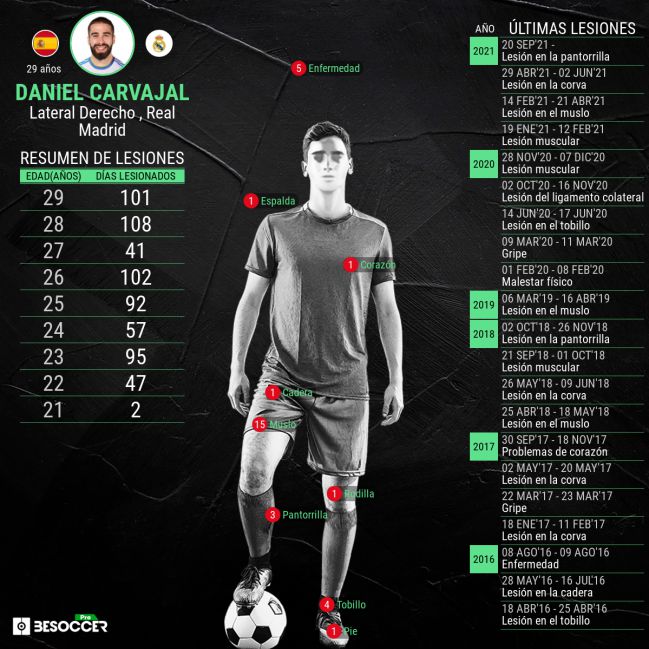 Everything was going well for Carvajal until the nightmare returned in Mestalla. Some discomfort in the right calf took him off the field of play when the game had not yet completed half an hour of play. He will be out for at least three weeks, until after the national team stoppage. And having reached that goal, again with leaden feet: hoping that recovery does not betray him, managing the fear of relapse.
Valencia seems cursed for the white side. One of the relapses of last season also suffered against Valencia. Almost in the same minute of the game, but at Di Stéfano. It was the fourth of the five injuries he suffered last season, in a game in which he returned to the squad after a month off. He could barely play 15 games (13 in the League and 2 in the Champions League) for a total baggage of 1,119 minutes. The only good news of this 2021 was his renewal with Real Madrid until 2025, which will allow him to complete 23 years of service to the club, only interrupted by his season of Erasmus on loan at Leverkusen.