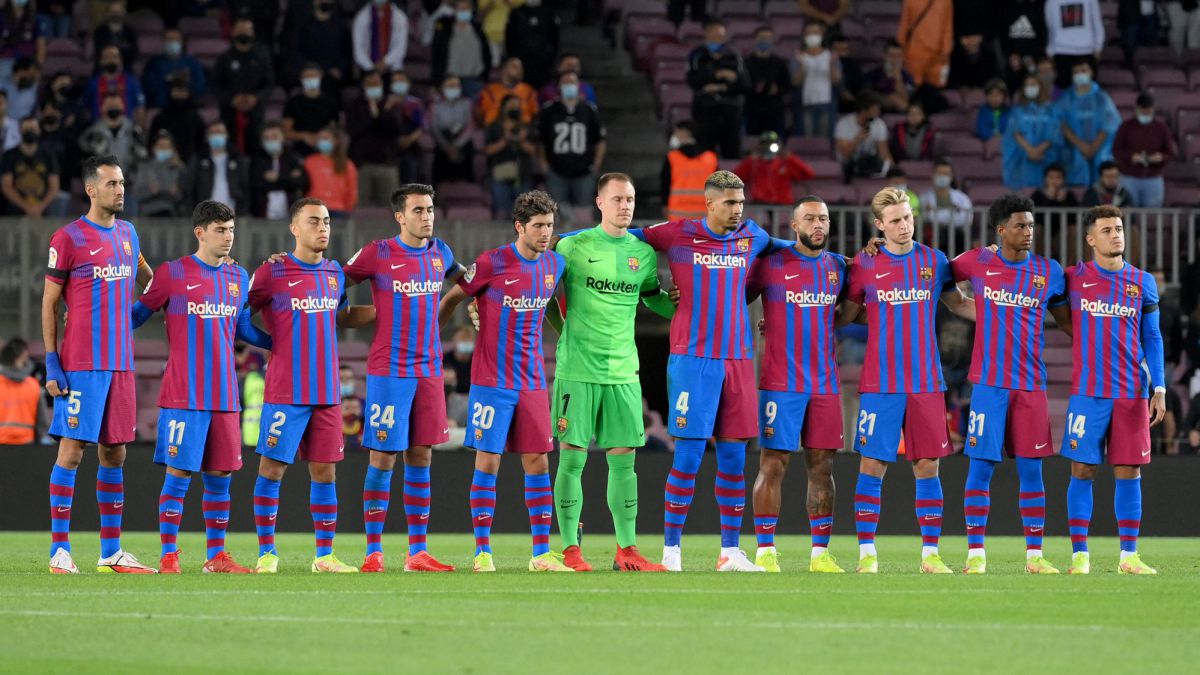 Koeman returned, predictably, to 4-3-3, with a very young defense without Piqué and with Memphis as a center forward. But that drawing was changing during the game until ending with Memphis, Luuk de Jong and ¡Piqué! as forwards, with Dest and Mingueza open to the wings and just two defenders, Eric and Araújo, who also went up. This was the one by one of a helpless and fateful Barça.
Ter Stegen. He still does not contribute anything positive to the team. They came to him once and he saw Escudero's center pass by, which Duarte finished off at will.
Dest. He put his will, especially when he played on the left wing. He lacks quality but in games like this, at least he has a leading role. He insisted and insisted, but never made the decisive pass. Competitive.
Èric Garcia. In the shadow of Araújo. Approved, no more.
Araújo. The best of Barça. Brutal. Firm in defense, where he multiplied and risked to anticipate, he approached the goal a couple of times in the first half, which ended up as a center forward. Then, in the second, he scored the tying goal and ended up making a display as a right winger. He played for three.
Bucket. League debut. It goes very well forward. He lacked touch in the centers. He left injured with back problems
Busquets. Black night. He failed in Escudero's mark at 0-1 and also lacked success in the pass, physical … Overcome at times, he is also a player who needs partners and here and now he does not have them.
Sergi Roberto. He crashed a ball into the post in the 18th minute. No luck. Koeman removed it at halftime so that the gap with the fans did not become greater. Approved, no more.
Frenkie de Jong. He put a little self-love in the second part, in which he did what a player who makes a difference like him is asked. Try to break lines. Disappointing in the first half. A player who costs a club 90 million euros must do much more. And last season he showed he could do it.
Demir. Very little thing. He did not dare, he does not have much travel to play extreme and he was not really a threat for Granada. Disappointing. In any other case, he would not have started a game at Barça.
Memphis. Soda. Attempts but little definition. In addition, he wasted some clear opportunities. In some he was slow to shoot and in others he lacked aim. He is a player of a high level, but without reaching the status of crack.
Coutinho. Sixty minutes for the Brazilian. As usual. Fakes of the player who later does not prove to be.
Substitutions
Mingueza. Competitive. He came and went on the right. He is too impulsive. He saw a yellow and the second was played but, in these times of misery, at least he has self-love and knows what it means to play for Barça.
Gavi. He gave the goal pass. In that madness, and with almost five forwards, it is difficult to enter a team game, especially for a little guy like him. But whenever it comes out it contributes.
Riqui Puig. Very little thing. He even missed a horizontal pass and missed a game changer to Dest. It was also difficult for him to enter a match that was for centers from the wings and spikes.
Pique. Key in the play of the goal. He played as a striker in the old fashioned way, in this unknown Barça.
Luuk de Jong. He missed a goal that was easier to score than to shoot up. Then he threatened to make a Chilean, he did not dare and the public made a joke with the episode. It makes sense of the game but physically it is very fair and, if you came to score goals in games like this and you don't get it, it won't be worth anything.