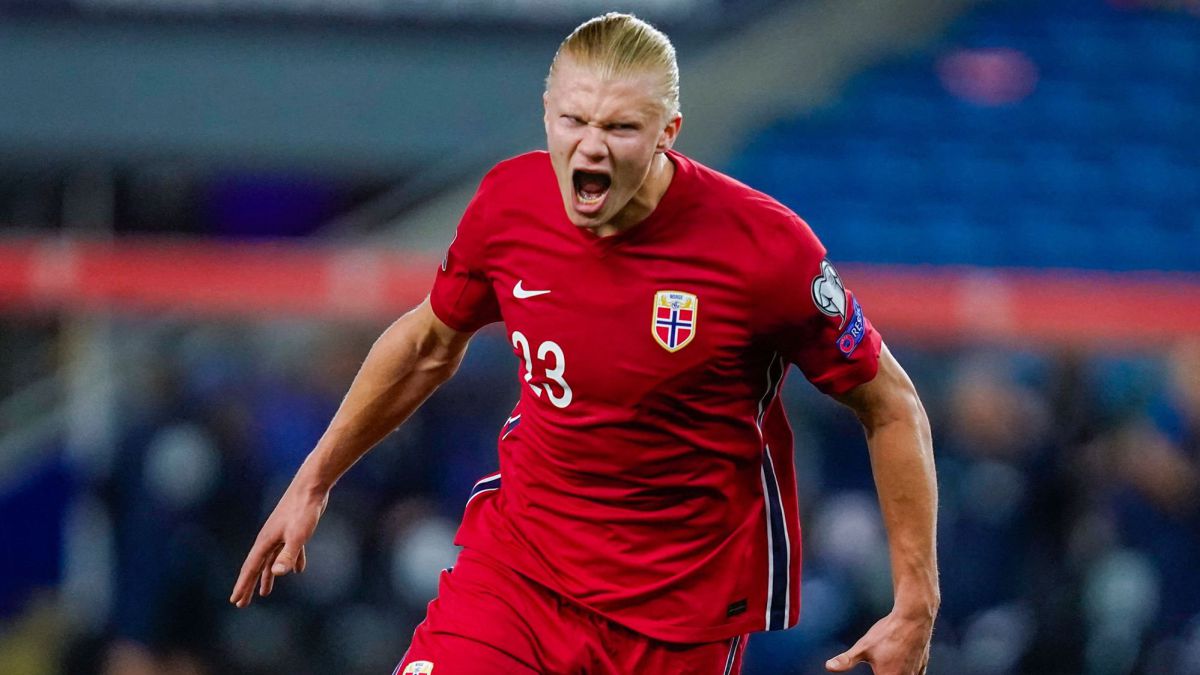 Erling Haaland continues to make it clear that he is called to lead the new generation of football alongside Mbappé. In the twilight of an era marked by the 'tyranny' of Messi and Cristiano, the Norwegian and the French have appeared to take over. The Dortmund forward has already scored 6 goals so far this season with his club, managing to see the door in three of the five games he has played. Only Bayern and Freiburg have managed to 'dry it out' for now.
With the hat-trick against Wehen in the DFB Pokal and the most recent against Gibraltar, it has made headlines again. With only 21 years old, the Norwegian already accumulates more hattricks (11) than those scored in his entire career by some of the great forwards in history, according to data from BeSoccer. Van Nistelrooy, Forlán and Rooney stayed at 10, while others like Van Persie, Torres, Villa, Eto'o, Inzaghi or Klose 'only' reached 9. Another area devourer like Chelsea legend Drogba has landed eight hattricks over the course of his successful career. All of them spent about 20 years in professional football, while Haaland has only been in 6 seasons., since he made his debut with the Norwegian Bryne's first team in 2016, at just 15 years old.
The forward, since arriving at Dortmund, has scored 63 goals in 64 games, devastating figures that border on an average of one goal per game. What's more, has distributed 18 assists, which places him with 81 participations in goals. With his selection, the figures are similar. Since making his senior debut two years ago, in September 2019, he has scored 12 goals in 15 games.
These impressive goalscoring figures have made all of Europe fight for his signing for next season. Real Madrid seems to be one of the most interested. The white club intends to bring together the two players destined to mark an era, Haaland and Mbappé, at the Santiago Bernabéu. In fact, former footballer Christian Vieri has stated in recent hours that, as he has been informed, "Haaland goes to Madrid at 100%".
Destined to dethrone Cristiano in the Champions
The Norwegian came out of anonymity just over two years ago. It was on May 30, 2019, when he scored nine goals against Honduras in the U-20 World Cup.. At that time he was active in Salzburg, where he had arrived six months earlier from Molde. In January 2020 he landed in Dortmund, where he has definitely become a star.
Last season he scored 27 league goals, tying with Mbappé for fifth position in the fight for the Golden Boot, same position in which the 2019/20 season ended. But his most astonishing early data have to do with the Champions League, the highest continental competition.
The Norwegian became the youngest to score 20 goals in the competition last season, aged 20, needing only 13 games. In that same number of matches, Cristiano, the greatest dominator of the competition of all time, I had not managed to score yet; Messi only had three goals and Lewandowski six. He also left behind other precocious geniuses such as Raúl, who took 22 games to score 10 goals, and Mbappé, who reached ten after 15 games.