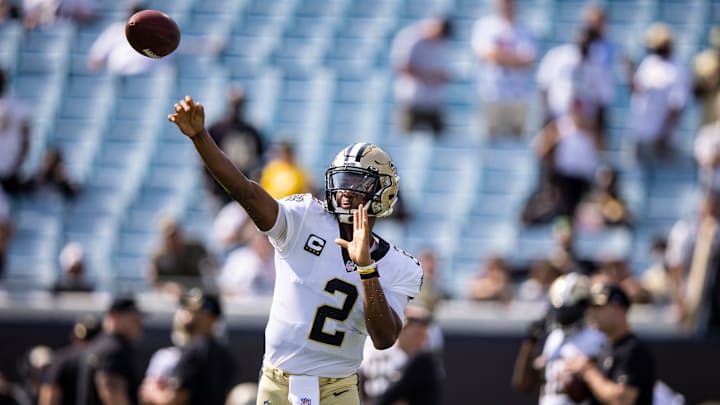 Jameis Winston was the star of the New Orleans Saints triumph in the first week of the 2021-22 NFL season. It was not just any victory, it was against the Green Bay Packers and Aaron Rodgers, the league's current MVP, with a phenomenal performance from the quarterback who took over from the legendary Drew Brees.
This start on the right foot could be an indication of the good things Winston, a long passing specialist who has been widely questioned in the past for his tendency to get picked up, is to be accomplished. These questions are certainly a bit unfair because when delving into their numbers it is observed that they are remarkable and one of the best in the circuit.
Winston has great records such as the leading passing yards of 5,109 and an average of 319.3 yards per game, both achieved in 2019. This joins a career average of 61.4% of completions that, although it is not the best , is one of the most regular in recent years. There is no question, despite the flaws in the direction of its deliveries, it is effective and lethal.
Winston's five touchdown passes against the Packers on Sunday, September 12, proved the coach Sean Payton right, who preferred to play him instead of Taysom Hill. The strategist knows who can best adapt to the team from the quarterback position after many years working with Drew Brees. He knew that Winston is a better option than Hill and he didn't hesitate.
When the Tampa Bay Buccaneers decided to leave Jameis Winston to sign Tom Brady in 2020, many did not see the move wrong. In fact, it didn't go bad at all because the spectacular 44-year-old quarterback won the Super Bowl. However, Winston's departure was not due to poor performance. It just had no place with the biggest one there.
Will Winston be able to silence all the critics of his game with a good year? We think so. It is what is called a sniper when launching the ball. It has a very high capacity to make complicated and precise shipments to wide receivers and tight ends. This characterized him during his stay in Tampa Bay and may be the highlight of this incursion in New Orleans. You don't have to compare him every day to Brees or remember every time he fails that he lost his job to Brady. You have the right to sports redemption and you can achieve it in a matter of months.