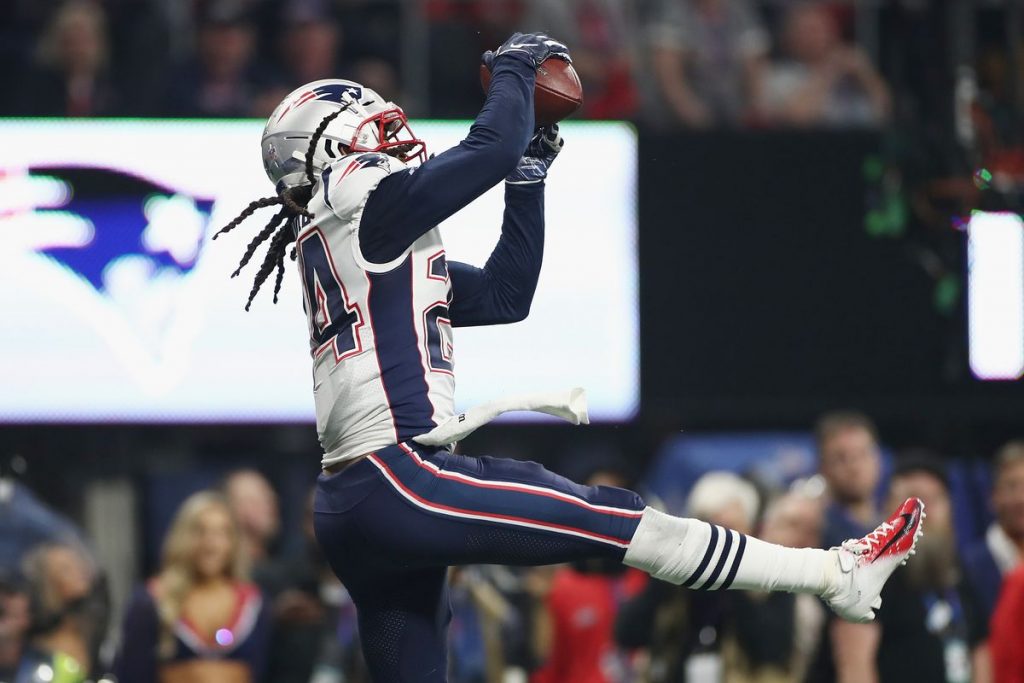 In this Wednesday's NFL news: Dallas cuts Jaylon Smith; David Montgomery, out for 4 to 5 weeks; the Patriots would sign Jamie Collins; and more. Don't miss the NFL news.
Patriots cut Stephon Gilmore
This Wednesday morning, via Adam Schefter from ESPN, it was announced that the Patriots decided to cut CB Stephon Gilmore, who is considered one of the best players in his position within the NFL, however, he is on the list Physically Handicapped to Play due to a quadriceps injury, and will be eligible to return until after Week 6 of the 2021 NFL Season.
It should be remembered that Gilmore and New England were in a fierce contractual dispute for the cornerback to remain on the team. In fact, this past July, Gilmore was absent from the minicamp of the team hinting from his holdout that he was looking to sign a new agreement: "I only want my worth, however that turns out. Hopefully we can find common ground and make it happen, "Gilmore said three months ago.
Later, Gilmore decided to report to the training camp For the Patriots, however, the quadriceps injury has caused him to miss the first four weeks of the regular season, and he will be at least for another two. His contract dictated that his 2021 annual salary was set at $ 7.7 million, which is not low, but nowhere near the league's average annual value for top cornerbacks, which is even $ 20 million for Jalen Ramsey of the Rams. So now, Gilmore will have to find another team that wants to pay him.
The South Carolina graduate was the Bills' 10th overall pick in the 2012 Draft and played there for five seasons before landing with the Patriots in 2017. During nine NFL seasons, he has 411 total tackles, 25 INTs and 114 passes defended. So, surely, the team that gets his services will be very lucky this season. What team will Gilmore play for in 2021?
Patriots to cut Stephon Gilmore. https://t.co/8F1MjViGH5

– ProFootballTalk (@ProFootballTalk) October 6, 2021
Cowboys cut Jaylon Smith
This Tuesday the Cowboys were the center of attention due to a movement that generated much surprise. Via Adam Schefter of ESPN, Dallas decided to cut LB Jaylon Smith, who had been on the team for five seasons after being selected in the second round of the 2016 NFL Draft.
This movement is just about to be made official, in fact, Dallas still has until 3:00 p.m. from Central Mexico today to be able to land a trade for Smith and thus prevent him from leaving for free. However, Jane Slater from NFL Network reports that a trade seems unlikely, as the Cowboys have previously tried and failed to close any deals.
Additionally, Dallas' decision is made all the more surprising considering that they still have to pay Smith $ 7.2 million this year, the equivalent of the rest of his salary. In addition to this, Smith's contract for 2022 rises to 9.2 million dollars guaranteed against any type of injury, with a salary cap of 11.8 million dollars, main reasons why finding a trade became an almost impossible task.
The Notre Dame alumnus played in 92% of Dallas' defensive snaps in the past three seasons, including 98% in 2020. However, with a corps of linebackers that includes Micah Parsons, Leighton Vander Esch, and Jabril Cox, the Cowboys decided it was feasible to do without Smith. What team should be made with your services?
In-season surprise: Cowboys released LB Jaylon Smith, per source.

– Adam Schefter (@AdamSchefter) October 6, 2021
Mike Tomlin confirms Ben Roethlisberger hip problems
The 2021 season so far has been a real catastrophe for the Steelers, who, after winning the first game of the season, have accumulated three consecutive defeats and are at the bottom of the AFC North with one of the least productive offenses in the country. NFL. In part, this is due to 39-year veteran quarterback Ben Roethlisberger, who according to his own head coach is experiencing health problems.
This Tuesday, HC Mike Tomlin, said at a press conference that Roethlisberger is dealing with "hip problems", but despite this he refused to leave the door open for an eventual quarterback change: "Absolutely," Tomlin said when Asked if Big Ben is the best QB for Pittsburgh at the moment: "What he does and what he has done makes me feel very comfortable saying this."
Roethlisberger's apparent problems come just two weeks after sustaining a chest injury, and while Big Ben has not missed a regular season game to date, it is undeniable that this season he has been one of the fewest quarterbacks. NFL troops. Age is probably starting to be a key factor in his drop in level of play.
Mike Tomlin says Ben Roethlisberger has "hip issues." https://t.co/4Rh8DT7DQt

– ProFootballTalk (@ProFootballTalk) October 5, 2021
David Montgomery, out 4-5 weeks
Bad news for the Bears' backfield. Via Dan Graziano of ESPN, this Tuesday it was confirmed that RB David Montgomery will be out of 4 to 5 weeks due to a knee sprain. This loss is brutal for Chicago's running game, and the only thing redeemable from the event is that at least they will have it back for the second half of the season.
The Iowa State graduate came to the Bears as a third-round selection of the 2019 NFL Draft, and during his time with the team he accumulates 558 carries for 2,268 total yards and 17 TDs, in addition to 85 receptions for another 672 yards and 3 touchdowns. plus.
With Montgomery out, it will be RB Damien Williams, an eight-year veteran of the league, who must float Chicago's running offense. In addition, the team also has Khalil Hebert on their 53rd roster, and they have Ryan Nall on their practice squad. Can this offense survive in the absence of one of its best men?
Per source, tests showed Bears RB David Montgomery has a knee sprain that's expected to keep him out 4-5 weeks. Not season-ending, but Bears will be without their starting RB for a while.

– Dan Graziano (@DanGrazianoESPN) October 5, 2021
Marshawn Lynch named NFLPA's new chief ambassador
A history of the Seahawks and the NFL is back. This Tuesday the NFLPA announced that RB Marshawn Lynch has been named the new chief ambassador of the players' union. According to the released statement, Lynch will work to "get the most out of football, providing strategic support and knowledge for athlete-driven programs, resources, and income growth opportunities available to players."
Additionally, NFL Players Association Executive Director DeMaurice Smith called Lynch's addition "a great victory to further our mission as a full-service union for our men on and off the field."
For his part, Lynch, who came to the league as a first-round pick for the Bills in 2007, commented: "I always try to make the most of my time and opportunities (…). If you are lucky enough to call yourself an NFL player, you are in a position to create and participate in many opportunities (…) so you must maximize it and put yourself in a position to do things on and off the pitch, "said Lynch in a statement.
"By partnering with the NFLPA and working with De Smith [DeMaurice], I can share my path, transmit what I have been through and seen, so that players can see what is really in it for them and take advantage of all the resources that their teams, communities and the players association have available. I want to put them in position to be successful in all facets of their lives, from building businesses based on their passions to, of course, taking care of their mind. "
So maybe in an unexpected facet, but Lynch is back in the NFL. The California graduate is currently listed as an unrestricted free agent after last playing with the Seahawks in 2019, but as long as he hasn't made a retirement, there will always be a chance to see him back on the field.
NFLPA names Marshawn Lynch chief brand ambassador. https://t.co/ZfIEtmYXcW

– ProFootballTalk (@ProFootballTalk) October 5, 2021
The Patriots would sign Jamie Collins
In more NFL news, all indications are that an old Patriots acquaintance could return to the team for a third time. Via Field Yates de ESPNIt was reported on Tuesday that New England is working on a deal to sign LB Jamie Collins, who was cut by the Lions just last week after the team failed to find a trade for him.
If confirmed, this would be Collins' third time on the Patriots roster. The Southern Miss alumnus came to the NFL as a second-round pick from New England in 2013. He was later sent to Cleveland in 2016 and, although he signed a four-year contract, was cut and returned to play for Bill Belichick in 2019 under a one season deal.
At the end of that season, Collins came to the Lions initially for three years, and registered 101 total tackles in 14 games as a starter, including the first two of this season, however, Detroit felt it was time to rejuvenate its roster, and the 31-year-old linebacker no longer entered into team plans. Will he return to play for the Patriots for the third time in his career?
Patriots working on deal with Jamie Collins. https://t.co/ha0rYkN7uB

– ProFootballTalk (@ProFootballTalk) October 5, 2021
This is today's NFL news.
Want to hear more news from the NFL? Do not miss Under Review, the official news program of Primero y Diez where we review the best of the day, from Monday to Friday at 3:00 p.m. from Central Mexico, along with Jorge Tinajero, Luis Obregón and more.
You can watch the latest episode through the Primero y Diez official channel on YouTube or direct from here:
In case you missed it: