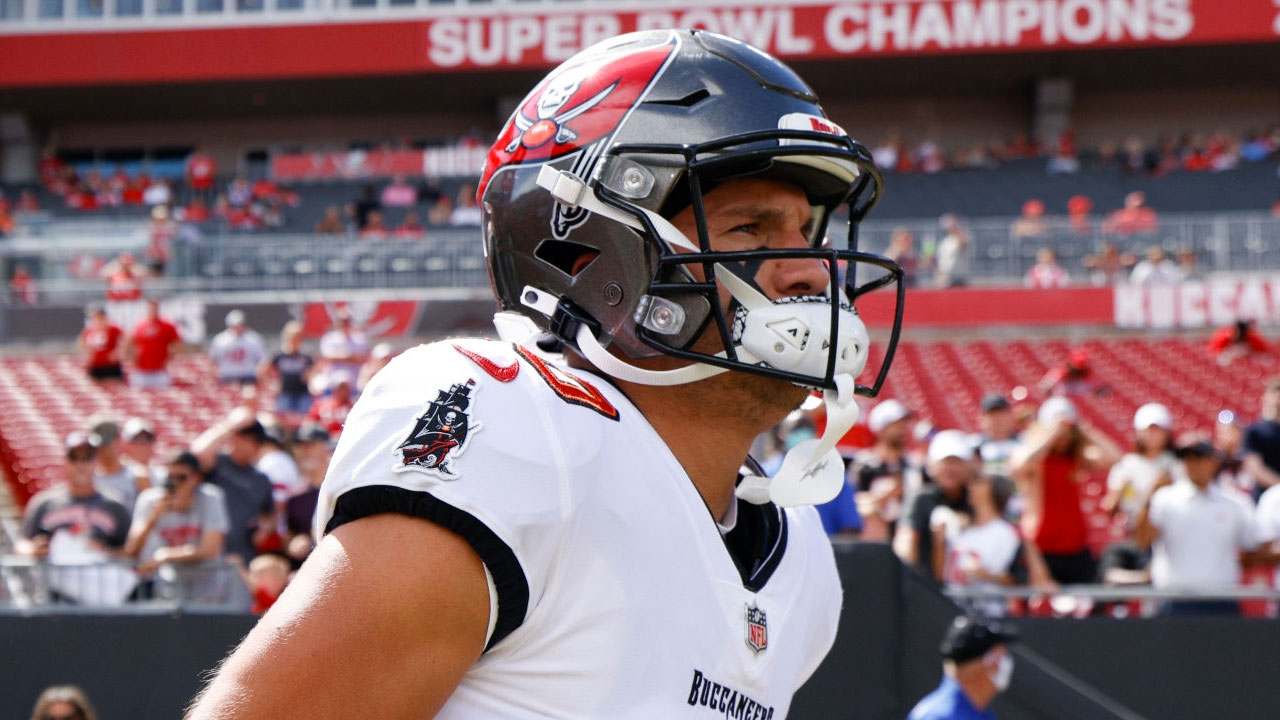 In Tuesday's NFL news: Rams lose Justin Hollins and Buccaneers lose Scotty Miller; the Saints return to New Orleans after a 1-month absence, and more. Don't miss the NFL news.
Rams lose Justin Hollins
This Monday, the head coach of the Rams, Sean McVay, said in a press conference that the team will lose for "a long time" to LB Justin Hollins, who had established himself as a starter at the start of the 2021 season. Hollins suffered an injury pectoralis major last Sunday against the Buccaneers and will need surgery to repair the damage.
Said surgical procedure is scheduled to be performed today, so Hollins will be placed on the Injury Reserve until further notice. "It is a great loss for us," said McVay, adding that he will have an idea of ​​a more exact return date until after surgery. So far this season, Hollins produced 12 total tackles, 2 sacks and 1 force fumble as a starter for the Rams, so it will be a tough defensive loss.
The Oregon graduate came to the NFL in 2019 as a fifth-round pick for the Broncos, where he only played one season before being claimed on waivers by the Rams the previous year. In total, during his career, he has participated in 34 games, registering 6 sacks, 3 passes defended and 61 total tackles. And while the injury is not expected to end his campaign, he will miss out on much of what looked to be a promising 2021.
LB Justin Hollins to undergo surgery to repair partially-torn pec + more injury updates

– Los Angeles Rams (@RamsNFL) September 28, 2021
Buccaneers lose Scotty Miller indefinitely
Bad news for the Buccaneers. This Monday, via Adam Schefter from ESPN, WR Scotty Miller was confirmed to have sustained a toe injury, so "a significant amount of time" will be lost. The team is still waiting for more test results to assess exactly how long Miller will be out, however, it is highly likely that he will be placed on Injured Reserve. Therefore, if confirmed, at least he would miss the next three weeks of Tampa Bay play.
This 2021, Miller has played in all three games this season, but has been very little involved in offense, catching just 2 passes for 11 yards. However, last season he emerged as a key element in the team's passing game, recording 33 receptions for 501 total yards.
The Bowling Green alumnus, who came to the Buccaneers as a sixth-round pick in the 2019 NFL Draft, has a total of 48 receptions for 712 yards and 4 TDs so far. Will he be able to compose his path this season, or is a recession inevitable?
Buccaneers expect to lose Scotty Miller for significant time with toe injury. https://t.co/SHO5n7yt5Z

– ProFootballTalk (@ProFootballTalk) September 27, 2021
Saints return to New Orleans after 1 month absence
After a month of absence in New Orleans due to the damage that Hurricane Ida left in the city, and a fire on the roof of their stadium, the Saints finally flew back home last Sunday night, and this Monday It was confirmed that those led by Sean Payton will be able to play Week 4 of the 2021 NFL Season at the Superdome.
"The Governor welcomes the Saints games back to New Orleans and thanks the NFL and other teams that worked to host the team after Hurricane Ida," said Christina Stephens, spokeswoman for Louisiana Governor John Bel Edwards. . In addition, Greg Bensel, vice president of communications for the Saints, also confirmed that the team has everything in order for next Sunday, when they actually play their first home game in 2021.
Finally, the Saints players did not take long to make their happiness notice through social networks: "New Orleans, Louisiana. Finally! "Wrote S Marcus Williams. "I'm ready (to go home)," RB Alvin Kamara noted. Thus, the Saints return home for the first time since last August 28 they were forced to leave New Orleans for Dallas due to Hurricane Ida. Will they be able to open their stadium this season with a victory?
Saints return home after a month on the road. https://t.co/m4bNsRRyja

– ProFootballTalk (@ProFootballTalk) September 27, 2021
Mike Zimmer: "Cameron Dantzler will be talked to about his Tweet"
In more NFL news, there appear to be problems within the Vikings organization. DB Cameron Dantzler ended up frustrated after the victory over the Seahawks the previous Sunday, a match where he only played nine special teams snaps, so he revealed his anger through social networks: "I'm tired of biting my tongue about this situation. … "Wrote Dantzler, who deleted the tweet after a few minutes.
However, despite having erased the evidence, he failed to prevent the Minnesota HC, Mike Zimmer, from becoming aware of the situation: "He will talk to him, yes," said Zimmer, through Chris Tomasson of Pioneer Press. In addition, he added that Dantzler needs to improve on special teams if he is to receive more opportunities on the field.
The Mississippi State graduate started last season as a rookie with the Vikings, but in 2021 he lost the job to Rashaud Breeland. In total, over 13 pro action games, Dantzler has 2 INTs, 5 passes defended and 47 total tackles, but this year his playing time has dropped significantly, and he doesn't look to increase in the near future.
Mike Zimmer: Cameron Dantzler will be "talked to" about this cryptic tweet. https://t.co/qQ0BOhW3Cs

– ProFootballTalk (@ProFootballTalk) September 27, 2021
Frank Reich: "Carson Wentz at 70, 80, was our best option"
How low must HC Frank Reich's confidence with his quarterback corps for an injured Carson Wentz to be his best option? In the Colts game last Sunday against the Titans, Wentz's involvement was decided at the last minute due to an injury to both of his ankles, and through the team's website, Reich noted that although Wentz was not in his best condition, it was the best option to start the game:
"I think Carson did a good job understanding what his limitations were and playing within that," Reich said, via the team's website. "He is our quarterback. We felt that he at 70, 80%, however he was, was our best option to beat a very good team of visitors. If we had made a little more plays, we would have been there. There were many opportunities in this game, a very close game ".
After the game ended, Wentz said he is "very confident" that his physical condition will continue to improve heading into Week 4 when they face the Dolphins, in what they hope will be their first win of the year. And Reich hopes the statement is true, having already made it clear that he prefers to put an injured quarterback before backups Brett Hundley or Jacob Eason.
Frank Reich: Carson Wentz at 70, 80 percent was our best option. https://t.co/UZxKWDP7YZ

– ProFootballTalk (@ProFootballTalk) September 27, 2021
This is today's NFL news.
Want to hear more news from the NFL? Do not miss Under Review, the official news program of Primero y Diez where we review the best of the day, from Monday to Friday at 3:00 p.m. from Central Mexico, along with Jorge Tinajero, Luis Obregón and more.
You can watch the episode of Monday, September 27th through the Primero y Diez official channel on YouTube or direct from here:
In case you missed it: