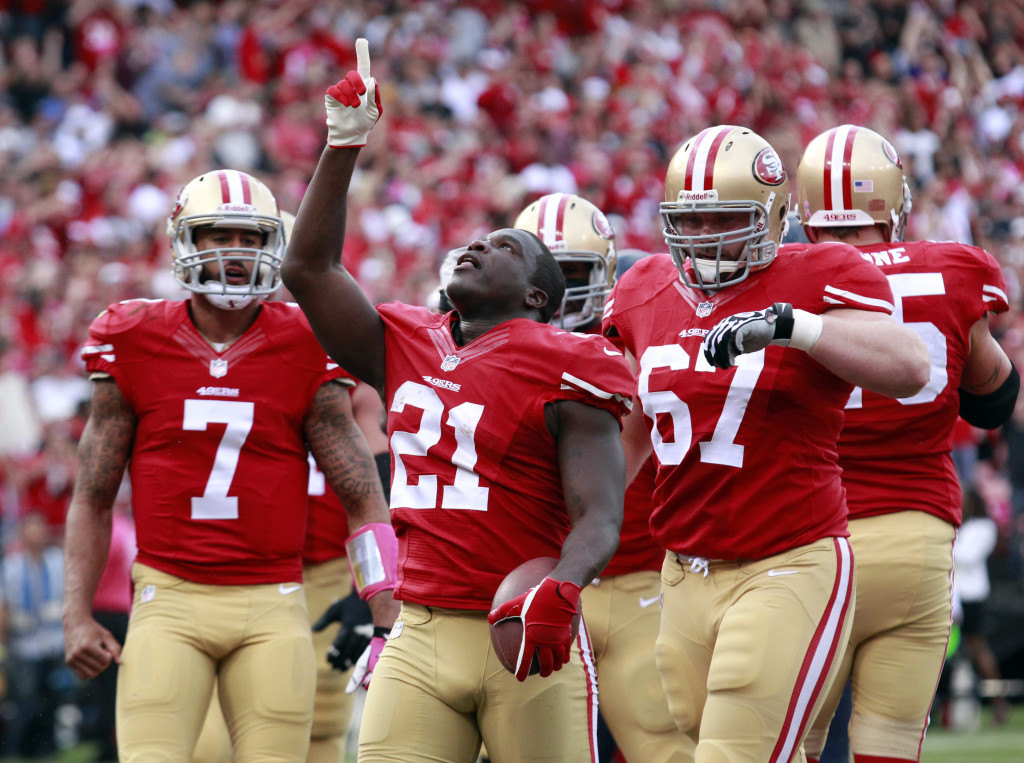 In Thursday's NFL news: HOF 2022 candidates known, Lions seeking a Jamie Collins trade, Kyle Shanahan not ruling out signing Frank Gore, and more. Don't miss the NFL news.
The HOF released the Modern Era Candidate List for Class 2022
On Wednesday, the NFL Hall of Fame unveiled the list of modern-era nominees for the Class of 2022, which is scheduled to be commemorated in August next year. To be considered eligible for the Hall of Fame, a candidate must not have participated as an active player for five consecutive seasons, and within this year's nominees, there are 10 players First ballot, or in other words, those who will be eligible for the first time:
WR: Anquan Boldin, Devin Hester (also PR / KR), Andre Johnson, Steve Smith
OL: Jake Long (T), Nick Mangold (C)
DB: Antonio Cromartie (CB)
DL: Robert Mathis (DE), Vince Wolfork (DT / NT)
LB: DeMarcus Ware
Including those already mentioned, the full list consists of 122 nominees, of which 65 are offensive players, 46 defensive players and 11 special teams. This list will be shortened to 25 semi-finalists next November, to 15 finalists in January, and the final vote will take place sometime before Super Bowl LVI. In addition, along with the 15 finalists of the modern era, senior finalist Cliff Branch, contributor Art McNally and HC Dick Vermeil are also nominated.
The list of the rest of the nominees is as follows:
QB: Randall Cunningham, Jake Delhomme, Boomer Esiason, Jeff Garcia, Dave Krieg, Donovan McNabb, Steve McNair
RB: Shaun Alexander, Mike Alstott (FB), Tiki Barber, Earnest Byner, Larry Centers (FB), Corey Dillon, Eddie George, Priest Holmes, Steven Jackson, Jamal Lewis, Eric Metcalf, Lorenzo Neal (FB), Fred Taylor, Herschel Walker (also KR), Ricky Waters, Brian Westbrook
WR: Troy Brown, Donald Driver, Henry Ellard (also PR), Torry Holt, Joe Horn, Chad Johnson, Derrick Mason, Muhsin Muhammad, Andre Rison, Jimmy Smith, Rod Smith, Hines Ward, * Reggie Wayne, Wes Welker
TEA: Dallas Clark, Ben Coates, Brent Jones, Heath Miller, Wesley Walls
OL: Willie Anderson (T), Matt Birk (C), * Tony Boselli (T), Lomas Brown (T), Ruben Brown (G), D'Brickashaw Ferguson (T), Kevin Glover (C / G), Jordan Gross (T), Olin Kreutz (C), Logan Mankins (G), Jesse Sapolu (C / G), Jeff Saturday (C), Chris Snee (G), Brian Waters (G), Richmond Webb (T), Erik Williams (T), Steve Wisniewski (G)
DL: John Abraham (DE also LB), * Jared Allen (DE), La'Roi Glover (DT / NT), Casey Hampton (DT / NT), Leslie O'Neal (DE), Michael Dean Perry (DT / DE) , Simeon Rice (DE), Richard Seymour (DT), Justin Smith (DE), Neil Smith (DE), Greg Townsend (DE / LB / DT / NT), Justin Tuck (DE), Kevin Williams (DT)), Bryant Young (DT)
LB: Cornelius Bennett, Lance Briggs, Tedy Bruschi, London Fletcher, Seth Joyner, Willie McGinest (also DE), Sam Mills, Hardy Nickerson Sr., Takeo Spikes, Pat Swilling (also DE), Zach Thomas, Patrick Willis
DB: Eric Allen (CB), Ronde Barber (CB / S), Dre Bly (DB), LeRoy Butler (S), Nick Collins (S), Merton Hanks (S), Rodney Harrison (S), Albert Lewis (CB) , Tim McDonald (S), Allen Rossum (DB), Asante Samuel (CB), Bob Sanders (S), Charles Tillman (CB), Troy Vincent (CB), Adrian Wilson (S), Darren Woodson (S)
P / K: Gary Anderson (K), Jeff Feagles (P), John Kasay (K), Sean Landeta (P), Ryan Longwell (K), Reggie Roby (P), Matt Turk (P)
ST: Josh Cribbs (KR / PR and WR), Mel Gray (PR / KR and WR), Brian Mitchell (KR / PR and RB), Steve Tasker (ST and WR)
In your opinion, who should enter the HOF in the Class of 2022? Will we see any players enter their first year of eligibility?
The Pro Football Hall of Fame Class of 2022 nominees was just unveiled, and it features some notable first-time potential HOFers. The full list: https://t.co/0TBQgQpFrT

– Ian Rapoport (@RapSheet) September 22, 2021
Lions seek trade for Jamie Collins
This Wednesday Detroit linebacker Jamie Collins did not participate in the team's training session for reasons not related to injuries, but because, via Adam Schefter, of ESPN, it was reported that the Lions are exploring options to make a trade.
The Southern Miss alumnus, who came to the league as a second-round pick for the Patriots in 2013, is only in his second season with Detroit, and so far in 2021, he has made 100 defensive snaps. However, he was the target of strong criticism after the Lions lost to the Packers last Monday, and HC Dan Campbell's words only fuel the potential trade: "Look, Jamie had some mistakes," Campbell told via Kyle Meinke from mlive.com. "It certainly wasn't his best performance."
Collins, who will turn 32 later this month, has participated in 112 games in his 10-year career, in which he accumulated 11 INTs, 19 forced fumbles, 8 recovered, 25.5 sacks and 686 total tackles. What team should be made with your services?
Lions' LB Jamie Collins, who was held out of practice today, has been the subject of trade discussions between Detroit and other teams, per sources.

– Adam Schefter (@AdamSchefter) September 22, 2021
Kyle Shanahan won't rule out signing Frank Gore
An old acquaintance and historical 49ers could return home, or at least, his return is not entirely ruled out. This Wednesday, HC Kyle Shanahan commented on the possibility of San Francisco signing RB Frank Gore, who spent 10 seasons with the team between 2005 and 2014:
"(We) would never completely rule that out," Shanahan noted through Matt Maiocco of NBCSportsBayArea. "I don't know exactly where he is now. There are several people here who have a relationship with him. If the time comes when we need to do it, and he wants to do it, we would never rule it out. "
Currently, Gore, who is a free agent, is no longer at his best, but it would undoubtedly be a great contribution to a San Francisco backfield that is depleted due to the injuries of Raheem Mostert, whom they lost for the rest of 2021 ; JaMycal Hasty, who is addressing the Injured Reserve; and rookie Trey Sermon, who is on concussion protocol.
The 38-year-old Gore came to the league as a 49ers third-round pick in 2005, and in 16 seasons as a professional, spread across the 49ers, Colts, Dolphins, Bills and Jets, he has a total of 16,000 rushing yards. third most in NFL history, behind only Emmitt Smith (18,355) and Walter Payton (16,726), but what better way to try to overcome them than by returning to the team where he began his career.
Kyle Shanahan doesn't "fully" rule out signing Frank Gore. https://t.co/FIYTuB7T85

– ProFootballTalk (@ProFootballTalk) September 22, 2021
Danny Amendola, Yetur Gross-Matos, out for TNF
In more NFL news, Week 3 of the 2021 season kicks off this Thursday at 7:20 p.m. Central Mexico with the Panthers visiting the Texans at NGR Stadium. However, both teams will arrive with sensitive casualties that could condition the course of the match.
On the Houston side, his attack is increasingly diminished. In addition to the previously confirmed absences of Tyrod Taylor and Nico Collins, is that of WR Danny Amendola due to a thigh injury suffered the previous Sunday when the Texans lost to the Browns. Additionally, CB Terrance Mitchell (concussion) and QB Deshaun Watson (not injury related) will also be out, while LB Kamu Grugier-Hill (knee) and S Justin Reid (knee) were listed as questionable.
For her part, Carolina is not saved from the inactive either. DE Yetur Gross-Matos was ruled out of TNF on Wednesday due to an ankle injury. No other Panthers player has received official injury designations as of yet, but DE Morgan Fox appeared on the injury report for the week and was limited in Tuesday's practice with an ankle injury, while CB Jaycee Horn appeared on the injury report with a back injury, but was a full participant in Wednesday's session.
How much will the absences of Amendola and Gross-Matos weigh this Thursday? Will the Panthers remain undefeated or will the Texans assert the home?
Justin Reid questionable, Danny Amendola out for Texans Thursday night. https://t.co/a8RdlMu4hz

– ProFootballTalk (@ProFootballTalk) September 22, 2021
Broncos sign Micah Kiser
The Broncos have been quick to make moves. On Tuesday it was confirmed that LB Bradley Chubb will be out of 6 to 8 weeks due to a bone spur in his left ankle, therefore, this Wednesday he was placed on the Injured Reserve. However, Denver also announced the signing of its practice squad from LB Micah Kiser, who is coming under a 1-year, $ 600,000 fully guaranteed contract.
Kiser, a fourth-year player and graduate of the University of Virginia, started the first nine games of the 2020 NFL Season for the Rams, and led the team with 77 tackles before a knee injury ended his season. . In all, since 2018, he's only played 26 total games, mostly because he's struggled to stay healthy, but he's hoping Chubb's absence will help him rebound in his Broncos career.
In addition, Denver supplemented this move with the signing of another linebacker also to his practice squad. This is LB Pita Taumoepenu, the 49ers' sixth-round pick in 2017, who to date has only appeared in seven games in the NFL.
Micah Kiser goes to the #Brunches and gets $ 600k fully guaranteed on a 1-year deal off the #Rams.

– Ian Rapoport (@RapSheet) September 22, 2021
This is today's NFL news.
Want to hear more news from the NFL? Do not miss Under Review, the official news program of Primero y Diez where we review the best of the day, from Monday to Friday at 3:00 p.m. from Central Mexico, along with Jorge Tinajero, Luis Obregón and more.
You can watch the episode of Wednesday September 22 through the Primero y Diez official channel on YouTube or direct from here:
In case you missed it: