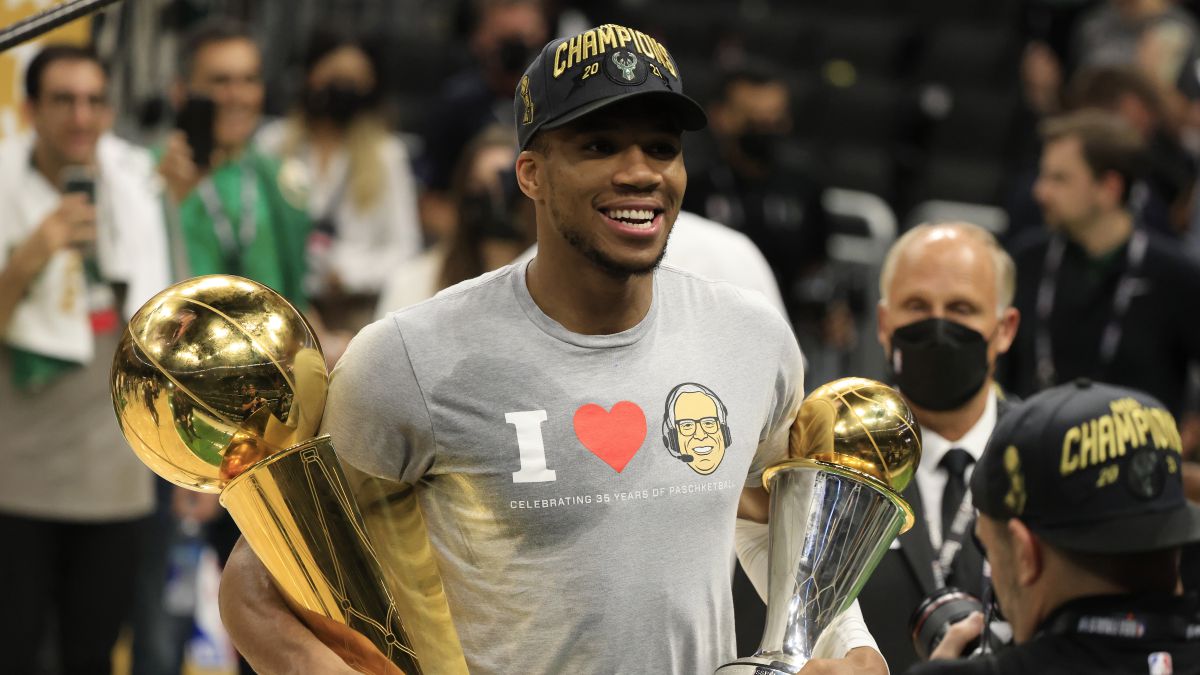 Giannis Antetokounmpo, MVP and NBA champion, has given an interview to the Greek medium COSMOTE TV before turning to the USA. In it, he comments on what it means for him to be a champion, competition with other players, controversies … and much more.
The Greek star, despite having beaten NBA a few months ago, he did not like to be reminded: "Don't call me champion. If you only hear compliments, you relax and that's something I don't want". Nor is it to his liking, unlike many players in the league, training with other superstars: "I can't be untrue. I am Giannis. But calling me MVP, calling me champion, calling me the best player in the world, is something that can hold me back. And I don't want anything to hold me back. I want to look forward and be better. That's why I don't train with other players. I don't want to be friends with them. If we do this and then have coffee with them, can I step onto the court and use my elbow against them? Can I block or mate on them? I can't because I'm authentic. If I want someone, I want him on the court too. I am fully aware of it and I do not want to put myself in that situation"
To the question about why he is not accepted by his peers to the level that other young stars are, Giannis did not have a clear answer: "I do not know why. Maybe because I am not a product of the same system. But neither is it Luka doncic, the magician. The truth is that I do not know. Maybe because of my game, because it's unorthodox, maybe they don't like it". What he did know how to answer was the controversial phrase of"have no ability" by James harden. The power forward of the Bucks answered the following: "First, Harden he never mentioned my name. I have seen this video, about a year and a half later. I think what he meant was that if he was also a 7footer, jumped up and shot, it would have been easier for him, but now he had to learn how to play. I think the media did it about me. Harden is a great player and when I'm on the court against him I have to play really hard. He's a Hall of Famer, I have nothing against him. And that was not a motivation for me against the Nets. My motivation is always how I can be better and help my team".
He is one of the best physicists in the NBA, has already one ring, one NBA Finals MVP, two regular league MVPs, and five times all-star among many other titles. Despite all that has been achieved, keep hunting the rest of the super stars: "I like to be a hunter. I am not the best player in the world. I'm telling you, I'm not! KD, LeBron, Kawhi, Luka, Curry, AD could be. I am not. I'm still on the hunt for the Greats of All Time. LeBron is still the best player in the world".
"Anteto"Also spoke about the finals and how did he deal with so much pressure: "The key was how to manage my fear, my anxiety. I spoke to a sports psychiatrist every day, it helped me to be myself. Free throws were a mental matter and I want to continue like this next season. And I want to see if we can repeat this as a team. I want to see if we can repeat it, me, my colleagues, the owners, everyone".
At 26 years old and in the best moment of his career, Anyone could hope that what the Greek wants most is to win more titles, but it is not like that, for him, family first: "I want to get my father back, I don't think twice. They can take everything from me, I could go back and sell CDs, I don't care. I want to get my father back".
Giannis ended the interview repeating once more his desire to win big with the Greek national team: "Hopefully I'm healthy to play at EuroBasket. I want us to go there, to play together, to enjoy ourselves. It is a 15 day tournament. We don't do it for fame, we do it to bring joy to people. Can you imagine giving joy to ten million Greeks? ".