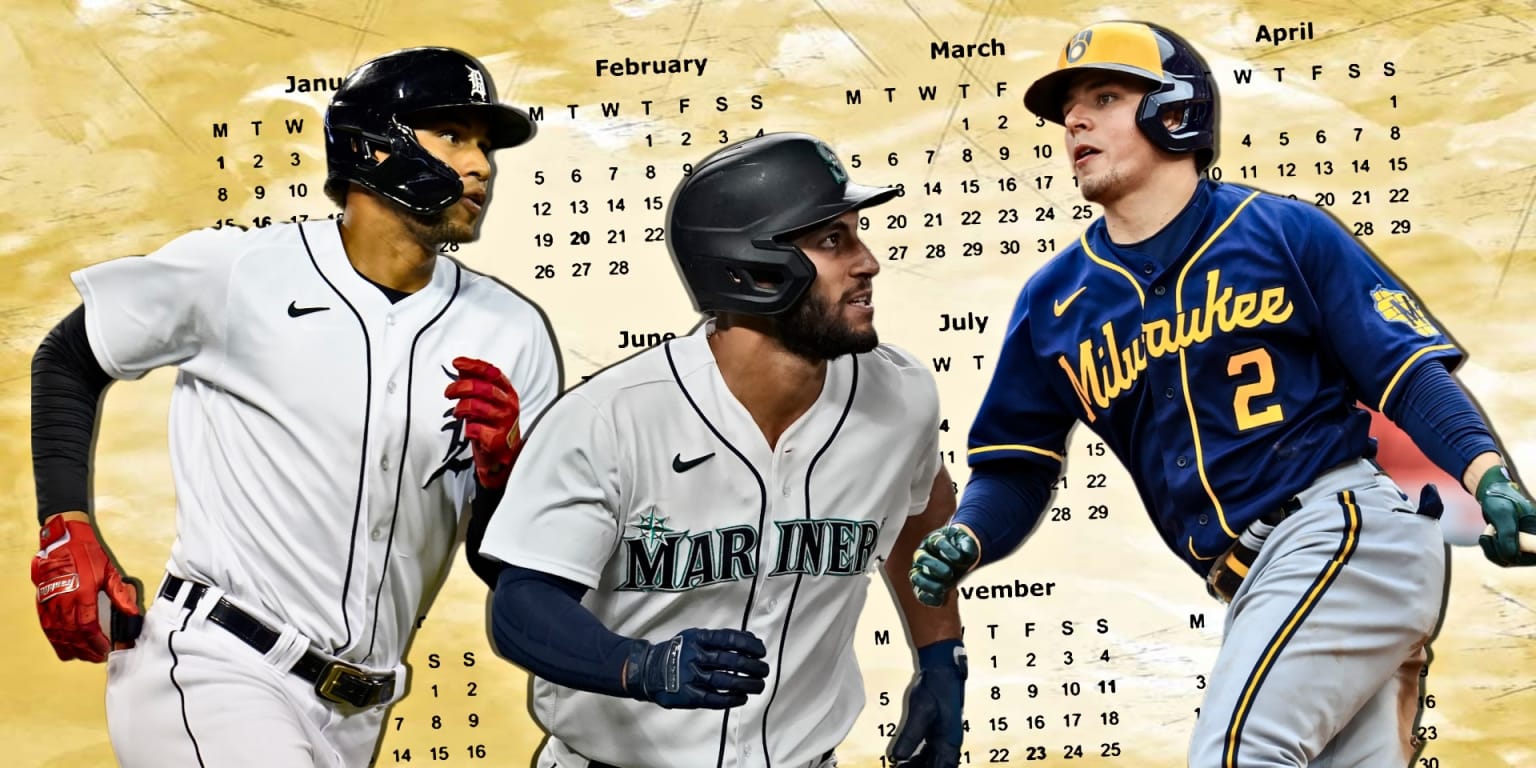 Every season around this time, it's very easy (and fun) to take a look at the second-half leaderships to find those players who have been playing surprisingly well – "surprisingly", because they hadn't done so in the past. or simply because they hadn't played much at the Major League level – and wondering if you're seeing something real, something that can serve as an indication of a better future … or just a hot streak that won't be repeated.
Maybe this didn't happen so much last year, because it was only 60 games. But at the end of 2019, we would have seen those who thundered in the second half, wondering if there was something real behind it all. If you saw what Teóscar Hernández did (.628 OPS in the first half and .938 in the second half) and you thought it was a real explosion, good for you. If you expected the same for Garrett Hampson (.524 in the first half, .809 in the second), well, it didn't turn out so well.
So how about what we are seeing this year? We're not talking about things like "Vladimir Guerrero Jr. has had a tremendous second half after having a good first half." We're not talking about "top-tier prospects like Wander Franco coming in and meeting expectations," or even a 48-homer hitter, like Jorge Soler of Cuba, coming to the Braves to give them that tremendous push. We're talking about players who didn't fare well in the early part of 2021, or years before, or who just weren't established major leaguers and who have looked great after the All-Star Game.
In this case, we are going to focus on three Latin American players:
There are many reasons not to believe in the Venezuelan Reyes and to be honest, we are not completely sure if his is real. Reyes, who came to the Tigers from the D-backs in the 2017 Rule 5 Draft, spent his career in the minors without showing much power (a .397 slugging) and in part of four seasons in Detroit, with more out of 900 visits to the plate, his OPS + is 83.
That's a bit unfair, of course, because it includes 2018, when Reyes was clearly not ready to make the jump to the Big Top and still had to do it to prevent the D-backs from taking him back to Phoenix. If we put aside his .239 on-base percentage that season, his OPS + since then is 96. Either way, he was sent to Triple-A in the first month of this year to open a roster spot for Nomar. Mazara, which says something about what the Tigers think of him.
Reyes thundered in 20 games at Triple-A (.385 / .462 / .564), but that's not why he's here. He's hit .313 / .345 / .542 for the Tigers in 107 plate appearances since he returned, but that's not the entire explanation for why we're including him on this note, impressive as those numbers are. It's here for this:
That what it shows us is rate of barrels, or "potted plants." A "pot" is the perfect combination of the exit velocity and take-off angle of a hit (a strong connection, in the air) and of all the Statcast metrics, it is considered to have the most predictive value. It's a good trend, and when he bounced it against Tampa Bay last Friday, it was the strongest hit and the longest home run of his career. That doesn't mean everything he did in the past didn't happen, but hitting a ball at 110 miles per hour even once tells you something about a hitter you didn't know before he did it.
At the risk of assuming that we are specialists in swings – we are not – visually it is very easy to see some of the changes. This year, Reyes, who is 6'5 (1.95 meters) tall, is standing more upright at the plate, different from the more hunched posture he used before.
"I'm proud of him," manager AJ Hinch said in May, "for taking the move (going down to the minors) in a constructive way and getting to the minus and doing it right, and we're following him closely and evaluating all the considerations and possibilities".
If we add that he is a very fast guy – although he is not a Derek Hill, he is faster than 90% of the major leaguers – and this explosion of power at least makes you notice what he is doing. It is easy to understand why in Detroit they continue to give him opportunities. Detroit is a great candidate to be a breakout team in 2022, but even with Akil Baddoo's big debut and Robbie Grossman's strong at-bat, there is still playing time available in the outfield. Mazara did not earn it and is no longer on the team. Hill still hasn't shown he can hit. JaCoby Jones probably ran out of opportunities. Riley Greene has yet to receive hers. It's now or never for Reyes, and he's suddenly become an interesting hitter, for reasons he hasn't shown before.
Abraham Toro, IF, Sailors
Venezuela's Toro never saw much action with Houston – 308 trips to the plate in three years – and he couldn't take advantage of what little he played, hitting just .193 / .276 / .350 for a 68 OPS +. Needless to say, it wasn't. an especially popular move within the Seattle clubhouse when general manager Jerry Dipoto traded their closer, Kendall Graveman, to leading Astros for Toro hours after the Mariners rallied from a 7-0 deficit to beat Houston 11-8.
Beyond what one thought of the movement at the time, it has worked wonders for Seattle. Toro homered in each of his first two games for the club (both against the Astros), and a few weeks later he hit a grand slam against Graveman himself. In short, he's hitting .293 / .370 / .425 (125 OPS +) for the Mariners, helping them stay in the Wild for the Wild Card. But, as we said, it did not produce in Houston. What happened?
"He's someone we had a long time trying to get, but (the Astros) had consistently said no," assistant general manager Justin Hollander said after the trade. It is not difficult to understand the reasons, looking at their numbers in the minor leagues. In part of five seasons at the farms, Toro posted a .370 OBP and a .466 slugging In 147 trips to the plate at Triple-A, he posted a .497 OBP.
Part of the explanation was limiting his strikeouts, striking out only 17% of the time in the minors, and look what's happening in the majors:
Toro will turn 25 in December, and he has been an analytics favorite because of his ability to reach base in the minors. That's what he's proving in Seattle, and making Dipoto's unpopular switch look that much better.
A wood-fired infielder who has helped the Brewers escape into the NL Central… but we're not talking about Willy Adames. No, we mean Mexican Urías, who was acquired during the 2019-2020 offseason as part of the trade that sent Trent Grisham to San Diego. At first, it seemed like a rare mistake for Milwaukee management, given that Grishman went to the 2020 All-Star Game, Urías left a 63 OPS + and Eric Lauer, who was also part of the trade, pitched only four games due to an injury to a man. shoulder. Lauer has been a valued member of the rotation in 2021, but Urías didn't do much during the first two months of the season and then lost his job when Adames arrived on May 21.
Urías moved to third – and more recently to shortstop with Adames out with a quadriceps injury – and his bat has taken off. On May 21, Urías had a .688 OPS in 2021 and a .648 lifetime mark in the majors. Since then? .264 / .343 / .472 with an OPS of .816. This is a good place to start to understand what is going on:
Suddenly, Urías has begun to hit the ball with force, something that he had not shown before. After hitting just 21 extra-base hits in 422 plate trips in his first three seasons, he now has 46 in 514 appearances this year. How? As is often the case with young players, look at Urías' decisions when making swings. Urias, for much of his career, had been an overly patient hitter with pitching in the strike zone. That changed almost exactly with the arrival of Adames, coincidence or not.
He is not a shortstop for the long term, both because defensive metrics are not favorable to him and because Adames has clearly taken that role in Milwaukee. But for a good weirdo, it looked like his future would be on the bench, or in the minors. Urías is just 24 years old. You are young enough to change those perceptions… and you have begun to.
.