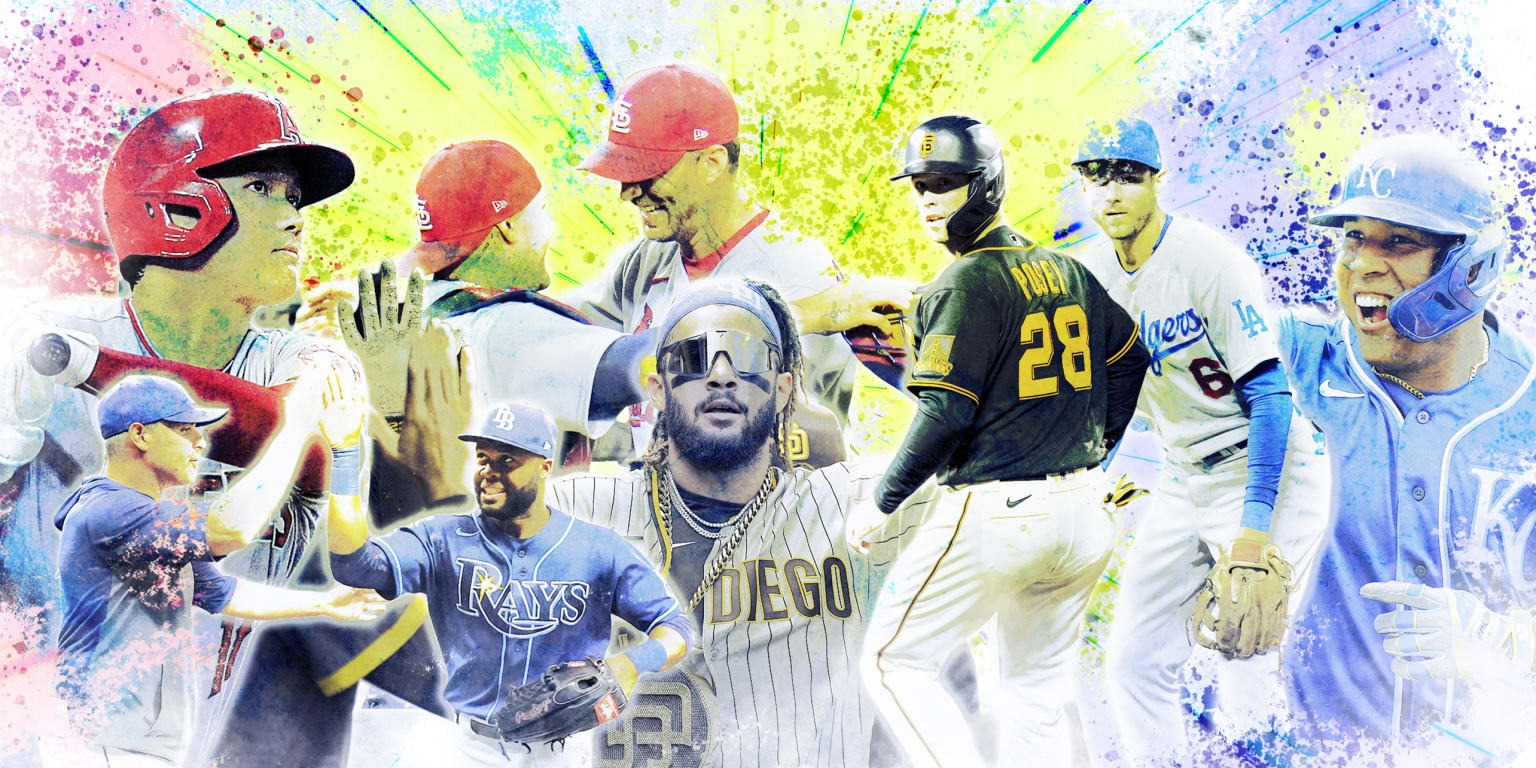 It breaks my heart to have to say this, but: There is only one week left in the regular season. Can you believe it? The postseason will be spectacular, but after Sunday's game, we will have to wait until March next year for all major league teams to play on the same day.
It is not easy to think about that.
With that in mind, today we will offer you a Guide to the Last Week, something to savor in these last seven days. Some of these teams are struggling to make the postseason or get into their best position heading into October. Others are just keeping schedule. Some of these things will be key in October. Others are simply items that we will miss for a long time. These are the topics to follow… and appreciate.
Blue Jays: Vlad Jr. after Triple Crown
Of course, the Blue Jays are focused on the Wild Card, but the quest for a Triple Crown is even weirder. That may not even be enough for Vladimir Guerrero Jr. to win the LA MVP, but at the end of the day, overall, it is more difficult to win a Triple Crown than an MVP. Will you be able to do it? He'll need a great performance in the RBI department, but it's not impossible.
Orioles: The Rise of Mullins
It's obviously been another tough season for the Orioles, but Cedric Mullins has been a real treat, the kind of leadoff hitter any team would want but only the Orioles have. Nobody knows what will happen in the future, but the Orioles will always be able to remember this incredible season (fifth in the LA in WAR, according to FanGraphs).
Rays: best season in franchise history
As consistently good as the Rays have been, they have never won more than 97 games in a season. That will change this year, most likely, so the last week will be to line up his rotation for the postseason. No one is exactly sure who his first SDLA starter will be, or his No. 2, or No. 3, really. Maybe this last week will give us a hint.
Red Sox: the fight for a Wild Card Game at home
For all the success the Red Sox have had in the Wild Card Era, they have never played in a Wild Card Game. Can they dispute it this time? At home? Fenway would look wonderful in a life-and-death duel – they've certainly hosted several well-known venues.
Yankees: one last lap on the roller coaster
It has been a year of ups and downs for the Yankees, with great moments and others not even remotely close to that. The Yankees are a huge pendulum. What version will we see in this last week?
Cleveland: one last Bieber outing
Cleveland's season hasn't been the same since Bieber's injury woes began. After making its first opening since June on Friday, it will have another opening, this Thursday, to say goodbye to the year. He is one of the best pitchers in baseball when healthy, and any chance of the team's success in 2022 will begin with him.
Royals: Salvador behind team home run record
Steve Balboni's 36 home run record lasted 32 years. Will the Venezuelan Pérez be able to exceed the 48 of the Cuban Jorge Soler, implanted in 2019?
Tigers: the calm before the storm
There won't be many teams with more eyes on them this offseason than the Tigers, who look ready to make big signings and bolster a young roster that is starting to make noise. These may be the last matches with nothing at stake for a long time.
Twins: a chance to turn the page
This is the Twins' worst season since 2016 and the most disappointing since… 2011? 2007? 1993? The good news is that it will be finished on Sunday and they will try again in March.
White Sox: return to the ring of La Russa
Not only was Tony La Russa's return not the disaster some predicted, but he just won the 13th division title of his career. They may love it or hate it, but we're going to see a lot of it this October.
Angels: the last week of the Ohtani season
This campaign has been, in many ways, memorable and amazing, but it is very likely that it will always be remembered as The Year of Shohei Ohtani. Only one week left to enjoy this unprecedented show.
Athletics: The incredible 2021 of Mars
Dominican Starling Marte has been a fantastic player for several years, but he has never had a season like this. It's a pleasure to watch him play, and it's never been more fun than this, looking for MLB's first 50-steal campaign since Dee Strange-Gordon and Billy Hamilton in 2017. Mars will be a free agent this winter, so A's fans You must enjoy your game while you are there.
Astros: prepare for very hostile environments
The Astros have had a fantastic year, but they are about to get booed like never before on the road for at least one postseason series, and maybe more. They also look like a team determined to silence their enemies, one after the other, if necessary.
Mariners: A Wild Card's Hope
The Mariners are likely to come up short this year, but the future is as bright as any other team in the LA West. If they can dominate this division for years to come, as many believe will happen, they will see this season as that of the transition, the last in which they competed without anyone expecting them to do so.
Rangers: Garcia will try to convince voters
It has not been a happy year in Arlington, but what little joy there has been has been thanks to Cuban Adolis García, who has one more week to present his arguments for LA Rookie of the Year
Braves: The end of the most unexpected second half of the Braves
Admit it: When Venezuelan Ronald Acuña Jr. was injured, they thought the Braves were dead. That the Braves themselves did not believe that, and took care to replace him, is one of the reasons why they are where they are, and why the rest of us were so wrong.
Marlins: Jazz Chisholm Jr. keeps getting better
He's had a season of ups and downs, but he's been playing better lately. Expect to see his photo in the team's media guide next year.
Mets: We may see deGrom and Thor
The Mets had their traditional drama-filled season, and the meltdown in the second half erased all the good vibes of May and June. If fans are trying to get a reason to smile, Jacob deGrom and Noah Syndergaard may be back this week after recovering from their respective injuries.
Nationals: another brilliant display from Soto
The Nationals haven't won much since the 2019 World Series, but Juan José Soto has looked as brilliant as ever. There are no reasons not to enjoy your game at all times, and if you keep this pace for another week you could end up winning the MVP of the NL.
Phillies: another intense postseason battle
The Phillies have the second-longest postseason drought in all of baseball, something absurd and cruel that fans are not handling well, as is normal. Bryce Harper has done his part. Will the rest of the team do the same?
Brewers: The closing of the best season in the history of the club
We'll see what happens to the Brewers in the postseason. But this has been as good a season as any in Milwaukee history, with a better winning percentage than in 2011 and 1982 and a divisional title that has been sung for the past two months. There will be time for the postseason. Enjoy these, Brewers fans.
Cardinals: Another Incredible September, 10 Years Later
It's hard to imagine another season like 2011 for the Cardinals – those happen only once in a lifetime. But the Cardinals are playing their best baseball at the perfect time and everything points to winning an NL Wild Card. Something they don't have to do yet: say goodbye to Adam Wainwright and Puerto Rican Yadier Molina.
Ok, it's true, you will end up playing less than 60 games, the equivalent of last year's shortened season. But Frank Schwindel is having an unforgettable year. In the Wild Card Era, only Sammy Sosa in 2001 (1,174) and Derrek Lee in 2005 (1,080), finished with a better OPS than Schwinder's 1,080, who has a better OPS than Sosa in the year he hit. 66 home runs.
Pirates: the stadium … again
There are few more pleasant places on earth than a cold night in PNC Park, watching balls fly in the Pittsburgh night.
Reds: last look at Votto's rally
A couple of years ago it seemed that Joey Votto's best years were in the past. He's looked like the Votto of the past again, just in time to make his case for Cooperstown. Are we looking at a future Hall of Fame?
D-backs: Mars looking like Mars again
Ketel Marte looked like an MVP candidate when the D-backs were a contending team a few years ago. He's starting to look like that again (.920 OPS), even if the team doesn't.
Dodgers: A divisional race with their great rivals!
Two historic rivals battling for the division in a race that could last until the last day! Yes, whoever finishes second will still play in the NL Wild Card Game, but there is a very big difference between that and a guaranteed spot in the SDLN. And if they finish tied, we will have game 163.
Giants: A divisional race with their great rivals!
Parents: Tatis Jr. being the same as always
2021 has not turned out as the Padres expected, but Fernando Tatis Jr. has had a brilliant season, overcoming injuries that would have diluted the quality of less talented players. The Padres have many questions to answer this winter. But Tatis Jr. is still Tatis Jr.
Rockies: Story's Last Days in Colorado (Probably)
According to Baseball Reference, Trevor Story is the fifth best player in franchise history. It seems that he will stay in that position for a long time.
.